Morgan Stanley's Almost-Flawless Quarter Gets Wall Street Kudos
"If only all results could be this easy," Bloomberg Intelligence's Alison Williams said, flagging broadly stronger revenue, solid cost control and return on tangible equity.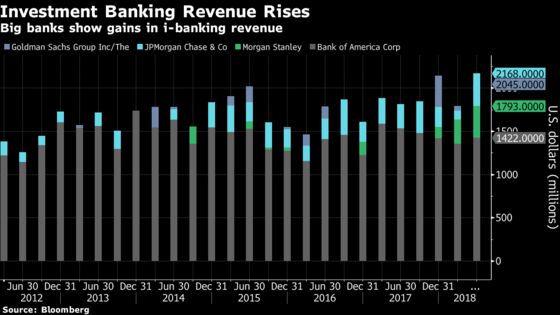 Here's a sample of analyst commentary:
"It is very hard to find anything to criticize in Morgan Stanley's latest earnings," Opimas CEO Marenzi writes in a note. "All lines of business performed well, registering growth. Morgan Stanley's performance in sales and trading was particularly impressive, especially compared to rival Goldman Sachs."
Goldman Sachs, Richard Ramsden
"Although investors could question the sustainability of the trading results, given typical capital markets seasonality, we believe that they appear generally broad-based, both by product and geography," Goldman analyst Ramsden writes in a note.
"Robust" results were driven by better-than-expected equities, FICC and investment banking. In wealth management, margin beat Goldman's estimate "despite weaker transactional revenues and slower NII growth."
Credit Suisse, Susan Roth Katzke
Morgan Stanley's results show "broad based strength," with upside driven by revenue, operating leverage and tax rate, while measures of return on equity matched or beat the high end of the company's target ranges.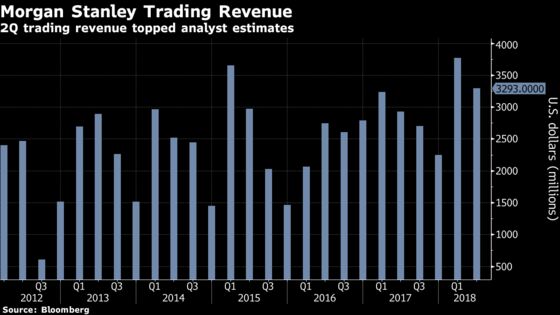 "Results this quarter were a beat on better trading and IB revenues," which KBW thought the market would like following peers' trading results so far, analyst Kleinhanzl writes in a note.
Morgan Stanley's adjusted EPS of $1.25 topped JMP's model due to stronger revenue and a lower compensation ratio (43.6 percent versus JMP's estimated 44.3 percent), analyst Ryan writes in a note. That was "partially offset by higher non-compensation expenses within the Institutional Securities division, which we believe is primarily the function of higher business activity in the quarter."
"Morgan Stanley is off to a great start in 2018, in our view, with an ROE in the first half tracking at nearly 14 percent, above its 'medium-term' ROE target range of 10 percent to 13 percent. While we suspect that first-half results will exceed second-half results based on seasonal trends, the company is operating at a high level, and we still see positive momentum in the business and further room for core earnings improvement."
Evercore ISI, Glenn Schorr
"Good quarter as results beat estimates by a little across each of the businesses with the most upside in equity trading (+8 cents) and M&A (+5 cents) in addition to the consistently strong wealth management numbers."
"We think the only real picking point for people will be the 3 percent rise" in wealth management net interest income "despite solid growth in loans, client balances and higher interest rates as Morgan Stanley continues to both share a little with clients and more importantly, attract balances from the other side of their clients' balance sheet." That should be good for "long-term profitability and client longevity."