Chip Stocks Tumble After Morgan Stanley Cuts Its Estimates
(Bloomberg) -- Morgan Stanley took another swipe at semiconductors on Wednesday, with an analyst cutting his earnings estimates for the first time in three years to reflect what he sees "as the start of an inventory correction."
While the pressure will probably be felt most in autos and industrials, normalizing lead times will likely be a trigger for the entire industry, analyst Craig Hettenbach wrote in a research note. He lowered his estimates for the fourth quarter and 2019, leading to a reduction in price targets for seven stocks, including Qorvo Inc., Microchip Technology Inc. and TE Connectivity Ltd.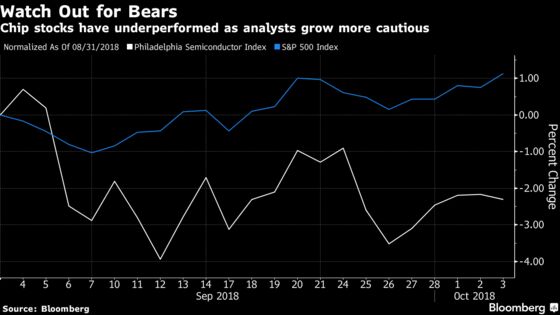 The cuts could add pressure to a group that has seen an increasing amount of bearish sentiment in recent weeks. After Morgan Stanley downgraded the sector in early August, several banks have piled on with cautious takes from Raymond James to Goldman Sachs and Stifel Nicolaus.
Since the end of August, the Philadelphia Semiconductor Index has fallen 2.2 percent while the S&P 500 is up 1.2 percent. The semiconductor index fell 0.2 percent at 9:45 a.m. in New York, while the broader benchmark gained 0.4 percent.
"There has been a healthy debate about how much of the risks are priced in, suggesting the bar is in the process of being lowered," Hettenbach wrote. "That said, if estimates begin to come down like we expect, it will be difficult for stocks to work."