Morgan Stanley CEO Says He's Not Surprised by Market Correction
(Bloomberg) -- Tighter monetary conditions worldwide and political discord mean Morgan Stanley Chief Executive Officer James Gorman is not surprised there is an ongoing market sell-off.
"It's not surprising the markets have been anxious; it's not surprising you're seeing some correction," Gorman said in a Bloomberg Television interview Tuesday. "It's not 2008, it's not the dot-com bubble burst of 2000."
Monetary policy is being tightened around the world, led by the U.S., which is having consequences, Gorman said. There are limitations to what monetary authorities can do given their shrinking balance sheets, and there is a lot of political turmoil, he said.
In addition, after an "incredible" run up in valuations of the FAANG stocks, it is no wonder some of that is being "taken off the table," he added.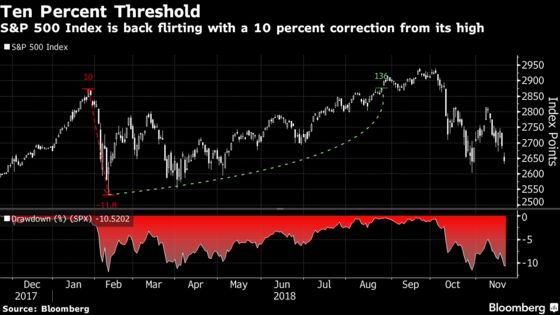 The S&P 500 Index briefly slid 10 percent below its September record close yesterday before clawing back just above the threshold. A slump in U.S. technology stocks, emerging signs of stress in the corporate credit market and diminishing hopes for a resolution to the ongoing Sino-American trade dispute have renewed last month's sell-off in global equity benchmarks.
Morgan Stanley is well able to deal with the market dislocation, according to its CEO.
"This is a market correction that we're going through right now," Gorman said. "This is well in our wheelhouse of what we can handle."