More Hedge Funds Will Close Shop If This Keeps Up: Taking Stock
(Bloomberg) -- The bleeding in global stock markets persists, corporate warnings keep piling up, the market's "fear gauge" is soaring, and 10-year yields remain relatively elevated from where they were earlier this month.
The next big catalyst for the market is the Sept. CPI reading this morning (estimated 0.2% on both CPI and ex-food and energy), which should be more scrutinized than usual given what has gone on in the rates market recently and, of course, now that the Fed is apparently "loco."
An argument can be made that an in-line print, or especially a softer one, may give the market a bit of reprieve and allow the noticeably-absent buy-the-dip crowd to resurface.
Airlines on Delta earnings; the early read is skewed positive as the stock gets some pre-market upticks
Engineering & construction companies after ~$8 billion market cap Fluor tanked >15% last night on weak preliminary figures, as margin pressures claim another victim
Gene editing group after the FDA lifted a clinical hold on one of Crispr's treatments
Pot stocks on swirling M&A reports involving $3.5 billion market cap Aphria
And the banks with one more day to go before the big kickoff to earnings; JPMorgan Wells Fargo, and Citi all report Friday
The Warning Signs Were There
The superlatives to describe Wednesday's bloodbath are everywhere (biggest drop on record for the FANGs, largest jump in the VIX since the February meltdown, yada yada) while the technical levels were blown through with a take-no-prisoners-style velocity, like the S&P 500 making the 100-day moving average seem invisible and further breaking below its previous support at 2,800 while the Nasdaq closed below its 200-day moving average for the first time in over two years.
All of the warning signs on the earnings front that we saw at the end of September (see the "Something Alarming" section in the Taking Stock column from Sept. 28) have started to become a reality with a swath of profit warnings, margin misses, and negative commentary on the impacts of tariffs starting to really take its toll on the market.
This latest round of worrying news has mostly come out of the materials and industrials space -- PPG's miss and cautionary tone from earlier this week set off a massive unwind across many sectors deemed cyclical (despite all the bad news we already heard in September from the auto OEMs and suppliers), and since then we've received a similar poor result from a smaller chemical stock Trinseo, a rough margin print from industrial distributor Fastenal, a scare in the consumer on China crackdown comments from luxury giant LVMH, and just last night a subpar sales result from infrastructure name Fluor.
Couple this with the spookiness of elevated yields, and you have a market that turned on a dime to full-blown skittishness. That's causing heavy selling across the board, but it's the momentum names that maybe flew too high and are now nosediving back to Earth -- here's another superlative: the iShares Edge MSCI USA Momentum Factor ETF, or MTUM, had its worst performance day ever on Wednesday.
The thing is, many of these momentum names that spun out of control over the past five days have higher-than-usual ownership by hedge funds, and are known as "Hedge Fund Hotels" as a result.
The move has been brutal, to say the least -- take the Goldman Sachs Hedge Industry VIP ETF, or GVIP, which is designed to give exposure to stocks whose performance will influence the long portfolios of hedge funds; that ETF is >7% from its Sept. peak and has fallen 12 of the last 14 trading sessions.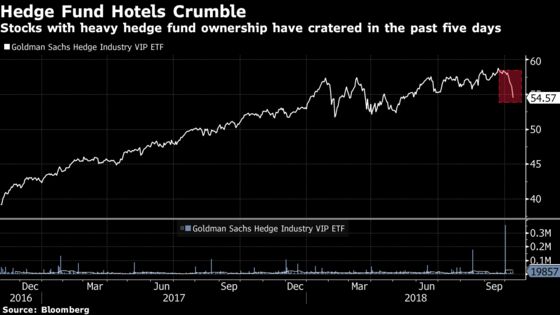 Everyone knows large-cap tech stocks are a magnet for hedge funds (BofAML had "Long FAANG+BAT" as most crowded trade for eighth straight month in its Sept. fund manager survey), but looking at the performance of some non-supercaps that have at least 10% hedge fund ownership over the past five days may paint a deeper picture of the bigger problem at hand:
Roku -22% (Melvin, Whale Rock, Citadel, Hitchwood, Buckingham were among top hedge-fund holders as of the last filings, many of which were from June 30)
Trivago -18% (PAR Capital, 683 Capital, Greenhouse Funds, Altimeter, Apertura, Citadel)
Etsy -17% (Renaissance, DE Shaw, Millennium, Citadel, Black-and-White, Goodnow, Hitchwood)
Spotify -16% (Tiger Global, Coatue, Steadfast, Lansdowne, Jericho, Soros, Hitchwood)
Stitch Fix -15% (Light Street, Steadfast, Hitchwood, Park West, Citadel, Garelick, Scopus)
ANGI Homeservices -15% (Luxor Capital, TCS Capital, SQN, Tiger Eye, PAR Capital)
Autodesk -14% (Viking, Tiger, Darsana, PointState, Meritage, Citadel, Sachem Head)
GoDaddy -14% (Select Equity, Renaissance, Egerton, Brahman, Silver Lake, DE Shaw)
Lululemon -13% (AQR, Laurion, DE Shaw, Renaissance, Arrowstreet, Millennium, Alyeska)
Goodyear Tire -12% (Diamond Hill, Citadel, DE Shaw, Moon Capital, AQR, Portolan)
Ralph Lauren -12% (Renaissance, AQR, Millennium, DE Shaw, Maverick, Arrowstreet)
And so on and so forth...
This is not a good thing for an industry that is already reeling from shrinking assets, bad performance, and some bigwigs leaving the business altogether. It's even more concerning that it's coming just days after we received news of a smattering of fund closings, like the $12.1 billion Highfields Capital fund, the $2 billion Criterion Capital fund, and Tourbillon's Jason Karp returning $1 billion as he shuts his main fund.
It makes one think which hedge funds just got decimated since the recent downturn and which may now be on the brink of returning money and closing shop.
Notes From the Sell Side
Square is reeling (down 9% pre-market after already plunging 18% plunge this week) thanks to the news of the departure of CFO Sarah Friar. SunTrust needles it further, claiming that Friar's leadership has been more instrumental to the company's rise as a payments disruptor and the firm's impressive growth than CEO Jack Dorsey's.
Sidenote, Square is one of those larger-cap momentum names that has a decent amount of hedge fund ownership (>6% of total) with names like DE Shaw, Lone Pine, Whale Rock, Matrix Capital, and Hitchwood Capital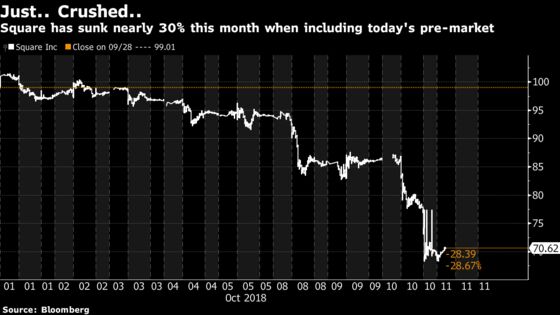 UBS is also out on GE this morning, expecting new CEO Larry Culp to aim to close the balance sheet gap via a combo of a steeper dividend cut (>90%) and even potentially a one-time equity raise.
Goldman cuts its target on Snap from $17 to $11, which is well above the stock's last close at $6.59; they still see potential for a "Twitter-like turnaround," though its unlikely that upcoming earnings will show any signs of it.
Morgan Stanley downgrades two frack sand names, U.S. Silica and Covia, to underweight on "rapidly deteriorating" sand market fundamentals. For the broader oil services sector, the analysts expects this earnings season to provide a "much needed reset" as the market comes to terms with near-term headwinds in North America and the potential that International margins will take time to expand.
And there's a couple positive Netflix previews out this morning, with Macquarie saying it doesn't expect a second straight subscriber miss thanks to a strong slates of releases while UBS's data points to upside for 3Q domestic subs and solid international sub trends.
Tick-by-Tick Guide to Today's Actionable Events
7:00am -- DAL, WBA, CBSH earnings
7:30am -- LB monthly sales
8:30am -- CPI, Initial Jobless Claims
8:30am -- WBA earnings call
9:00am -- SAFM investor meeting
9:30am -- IPOs to start trading after the open: Livent (LTHM), Allogene Therapeutics (ALLO), Osmotica Pharmaceuticals (OSMT)
10:00am -- DAL earnings call
10:30am -- EIA natgas storage
11:00am -- DoE oil inventories
11:00am -- LinkedIn co-founder Reid Hoffman at Economic Club of New York
12:00pm -- USDA WASDE monthly grain stocks report
1:40pm -- CGC co-CEO Bruce Linton on Bloomberg TV
2:00pm -- Monthly Budget Statement
2:00pm -- DAR investor day
4:05pm -- EXFO earnings (roughly)
8:20pm -- Eagles (-3) at Giants
Tonight -- IPOs to price: Anaplan (PLAN), Equillium (EQ)