More Bad News for Builders With BofA Downgrades, RBC Gloom
(Bloomberg) -- Homebuilder stocks fell after Bank of America Merrill Lynch cut its recommendation to neutral from buy on three of the biggest companies -- Toll Brothers, PulteGroup and NVR -- and RBC offered fresh skepticism about growth and affordability. Toll Brothers is paring a decline of as much as 3.1 percent in early trading; PulteGroup is off by 2.5 percent, and NVR, which also reported disappointing third-quarter results, is down as much as 7.8 percent to the lowest intraday since April 2017.
BofA Merrill Lynch's stock downgrades come as its U.S. economics team lowered forecasts for 2018-2019 housing starts and new home sales, analyst John Lovallo writes in a note. Lovallo says his call on NVR isn't based on third-quarter results, but is instead due to likely below-peer order growth in 2019; he cuts Toll Brothers as the high-end of the market is moderating, and downgrades PulteGroup as it may try to drive gross margin by "pushing price over pace."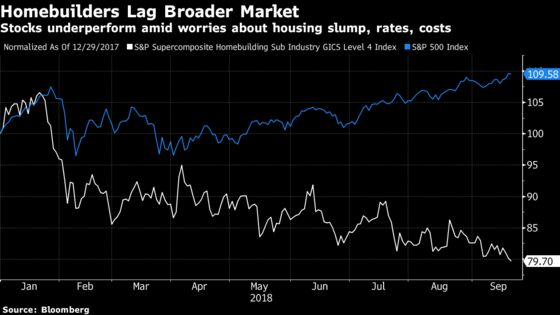 Lovallo adds that builders focused on affordable homes for entry-level and first time homes may yet offer value, and notes public homebuilder order growth usually outpaces the broader market.
Separately, RBC's Mike Dahl cuts his order growth forecasts and price targets after an analysis suggests "affordability is more stretched in areas that matter most to builders, even extending beyond the commonly-cited coastal markets." That may keep dampening growth rates in coming quarters. PulteGroup and DR Horton may have less exposure to the most stretched markets, while KB Home and TRI Pointe Group are most exposed.
Thursday's fresh negativity follows Zelman advising the market to "buckle up for a rocky builder earnings season"; Credit Suisse downgrading three stocks; and BTIG cutting earnings estimates and price targets, while warning of a continued slowdown in housing demand. That helped keep the S&P Supercomposite Homebuilding Index near its lowest levels since May 2017.
Jefferies is offering a rare bit of housing optimism, as analysts led by Steven DeSanctis write that 2018 headwinds probably won't get worse in 2019, while demographic factors are set to improve. Post-tax overhaul price adjustments will be in place, while millennials will continue to age, spurring household formation. Jefferies flags opportunities in multifamily REITs, companies providing affordable housing and vendors selling into that market, and repair and remodel stocks like Home Depot and Lowe's.