Moody's Sees a Sharp Contraction in Turkey's Economy
(Bloomberg) -- Turkey and Argentina may have put their currency crises behind them but a world of pain awaits their economies in the coming quarters, according to Moody's Investors Service.
Declines in the lira and the peso, two of this year's worst performers globally, will translate into sharp economic contractions as growth decelerates across advanced and emerging markets, Moody's said in a report on Thursday.
With monetary tightening in major economies and trade disputes undermining investment around the world, Moody's is taking an increasingly dim view of the growth prospects of developing nations such as Turkey and Argentina, which "have relatively high exposures to external financing and are therefore the most vulnerable."
Turkey's economy will probably contract through the first half of next year as the lira's slump and rising borrowing costs take their toll, the rating company said. Gross domestic product in Argentina won't return to positive growth until 2020 as a result of the country's severe monetary and fiscal consolidation under an International Monetary Fund program, Moody's said.
Turkey's inflation is hovering near the fastest pace since President Recep Tayyip Erdogan came to power 15 years ago, and high interest rates are clouding the investment outlook. Despite recouping some losses, the lira is still down 30 percent for the year against the dollar.
"Double-digit inflation, a steep increase in borrowing costs and curtailed bank lending are likely to weigh on household purchasing power, private consumption" and investment, Moody's said.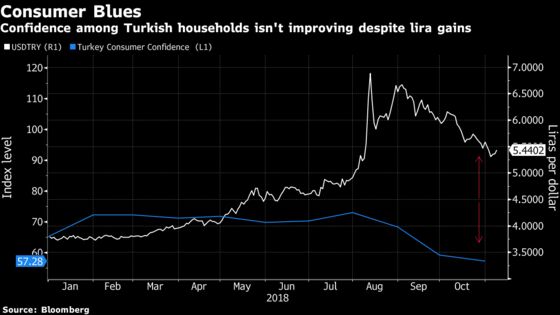 The IMF echoed Moody's warning, predicting that Turkish economic growth will slip to 0.4 percent in 2019 from 3.5 percent this year. "The weaker lira, higher borrowing costs, and elevated uncertainties weigh on investment and demand," the fund said in a report published Thursday.
Moody's sees Turkey's economy growing 1.5 percent in 2018 and contracting 2 percent the following year. It predicts Argentina's GDP will shrink 2.5 percent this year and 1.5 percent in 2019.
Turkey also has to contend with elevated inflation despite the worsening outlook for its economy. Moody's expects Turkish price growth, which accelerated to an annual 25.2 percent in October, to remain in double digits through 2020 because of unanchored inflation expectations, spurred by pressure from the exchange rate and oil.
In Argentina, inflation expectations will continue to rise despite the central bank's very tight stance, Moody's said, adding that it will take some time before the benefits of monetary policies fully materialize. It expects inflation to gradually fall to 20 percent by the end of 2020.