Monte Paschi Cuts Bad-Loan Pile Further With $2 Billion Sale
(Bloomberg) -- Banca Monte dei Paschi di Siena SpA sold about 1.8 billion euros ($2 billion) of troubled loans, reaching its goal for reducing risk two years early.
About 1.6 billion euros of unsecured non-performing loans were sold to Illimity Bank SpA, Monte Paschi said in a statement on Monday. Separately, it sold 0.2 billion euros of unlikely-to-pay loans, bringing the reduction in non-performing exposures for the year to 3.8 billion euros.
The loan sales are part of Chief Executive Officer Marco Morelli's plan to clean up the bank's balance sheet, cut costs and sell real estate to help the state recover some of the 5.4 billion euros it invested as part of Monte Paschi's 8.3 billion-euro recapitalization.
Monte Paschi, about 68% held by the Italian government, plans to exit state control by 2021 as required under an EU-approved bailout. The Italian government postponed the publication of Monte Paschi's exit plan to the beginning of 2020, the Finance Ministry said in a statement on Sunday, without providing a specific date.
The latest sales will cut the bank's gross bad loans to 12.5% of the total in 2019, beating its goal of 12.9% for 2021, Paschi said in the statement. Illimity, a Milan-based specialist in corporate bad loans, has purchased portions of Monte Paschi's soured debt sold earlier.
Italian banks took major strides in reducing their bad loans this year, as many turned to securitization backed by a state guarantee. On top of that, both recovery rates and prices improved this year, a sign that management of delinquent loans has improved.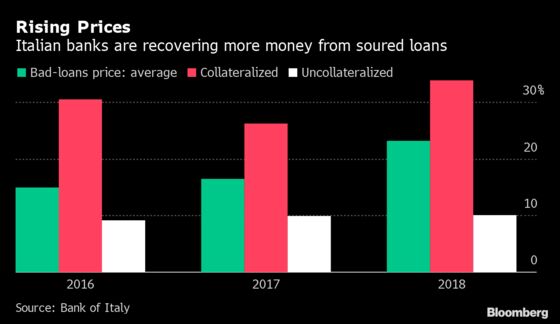 Prime Minister Giuseppe Conte's government plans to send a letter soon to the European Commission and the EU Competition Authority reiterating it will gradually exit its Monte Paschi stake, Il Sole 24 Ore reported Dec. 28, without citing anyone.
The state's plan is to find buyers and eventually combine Monte Paschi with another bank. Earlier this year press reports speculated about Unione di Banche Italiane SpA and Banco BPM SpA as potential merger partners.
Monte Paschi may have a long way to go before it becomes an attractive target. While Morelli is achieving many of his goals, profitability remains elusive and the shares have fallen to a fraction of the price the state paid for its holding in July 2017.