Money Manager Demand Is Expected to Set the Tone for Mortgages in 2019
(Bloomberg) -- The fate of both investors in mortgage securities and potential home buyers in 2019 will likely depend on the willingness of money managers to fill the demand void for agency MBS as the Federal Reserve has ended its purchases.
While organic MBS supply is forecast to drop to about $225 billion from an estimated $280 billion this year, one of the primary headwinds to performance in 2019 will be the central bank's portfolio runoff, which may increase to about $200 billion from around $160 billion this year.
JPMorgan Chase & Co. strategists led by Matthew Jozoff said that while the Fed runoff will be a headwind for mortgages, it will prove to be "even worse for other sectors, like credit" and forecasts sector option-adjusted spreads may tighten by 10 basis points next year "mainly driven by continued money manager sponsorship."
Amid rising interest rates and concern about a potential end to the economic expansion corporate OAS spreads over agency MBS have risen to almost 100 basis points, yet remain well below the 129 basis point average seen over the last decade. That may entice relative value investors such as money managers to rotate into mortgages, whose better liquidity and lack of credit risk can make them a haven when compared with corporates.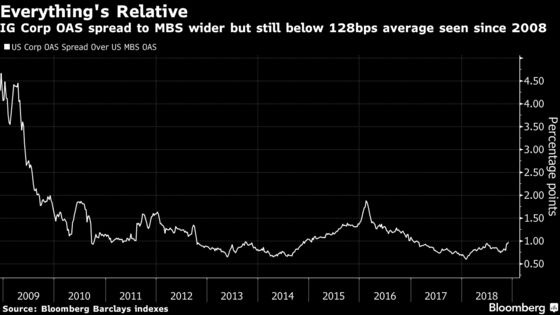 However, Citigroup Inc. strategists led by Ankur Mehta look for money managers to add just $150 billion to $200 billion in mortgages next year. They forecast production coupon spreads need to "widen another 15-25 basis points from current levels" to entice investors away from alternative options.
Over the short-term, investors are likely to demand wider spreads to buy conventionals, said Anthony Di Ciollo, co-head of fixed income at INTL FCStone Financial, Inc. By the second and third quarter of next year, though, he expects to see valuations look enticing enough that "active managers will look to add MBS exposure over credit."