Momentum Traders Just Dodged a FAANG-Tipped Bullet: Taking Stock
(Bloomberg) -- S&P 500 futures are flattish on a relatively quiet morning, aside from the beginning waves of earnings-related newsflow that has skewed positive so far, a good sign for the bulls who are hoping to maintain composure above the 2,800 level. Google's $5 billion fine is getting plenty of attention, but the stock has already pared nearly all of its 1.6 percent pre-market loss, suggesting the path to least resistance in the FAANGs remains higher.
Sectors that may outperform today:
Semis after stronger preliminary 2Q numbers from Texas Instruments (overshadowed by the CEO being ousted for conduct violations) and better-than-expected profit forecast from European chip giant ASML (shares up 5.4% in Amsterdam); tech in general, and names like CSCO and JNPR, may also get a boost from a rip in Ericsson (+11% in Stockholm) after its strong showing in North America revenues
Banks on a very strong early reaction to MS (+4%)
Industrials with Textron indicated higher (bid up a couple points) on an EPS forecast midpoint that topped the Street and rail name CSX (+3.2%) after a beat and sub-60% operating ratio; industrial distributor GWW reports later this morning while rail peer UNP gives its earnings tomorrow
Airlines after United (+3.9%) gave better-than-expected 3Q forecast
Video game stocks after "Assassin's Creed" maker Ubisoft (+5.5% in Paris) published strong quarterly sales
Mortgage insurers after MGIC (+5.1%) reported quarterly numbers above the highest estimates on the Street on first glance
Uranium stocks (CCJ +2.2%, UEC +13%, UUUU +19%) on report of import probe that may lead to tariffs
Sectors that may underperform today:
Auto retailers after Sonic Automotive (-13%) warned; shares of Penske, CarMax, and AutoNation fell in sympathy last night
Dental stocks (XRAY, PDCO, ALGN, HSIC) on a cautious Goldman note post-survey (more on this below)
The S&P 500 had its most decisive attempt at a breakout above the 2,800 resistance level on Tuesday, something it hasn't been able to do for months, and closed at its highest level since the very beginning of the short vol implosion-driven meltdown in early February.
If we recalibrate where things stand and resistance becomes support, the next level to watch is the record high of 2,873 in January, which is only ~63 points away, a reachable feat given the 92-handle rip we've already seen this month and the 82-handle rally that took place in the early half of June.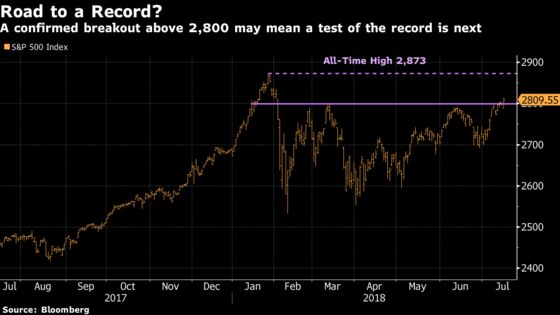 Momentum Trade Isn't Dead Yet
The most important catalyst for Tuesday's bounce across all stock indices was a determined ~12% peak-to-trough reversal in Netflix that eased fears of any widespread contagion into the rest of tech and anything considered "momentum." In fact, the opposite ensued as the stock's intraday whiplash sparked a buy-the-dip trade in large-cap tech that sent a majority of its FAANG peers, like Amazon, Facebook and Alphabet, to all-time records. Dovish comments from Fed Chair Powell in front of the Senate added to the sublime mood (he's back before the House today at 10am).
Netflix bounced so hard that its shares ended up closing comfortably above the 50-day moving average of $370.80 (after opening at $344), a positive technical indicator that seemed out of reach after sizable misses on key metrics by a crowded high-flier that had already more than doubled year-to-date going into the print.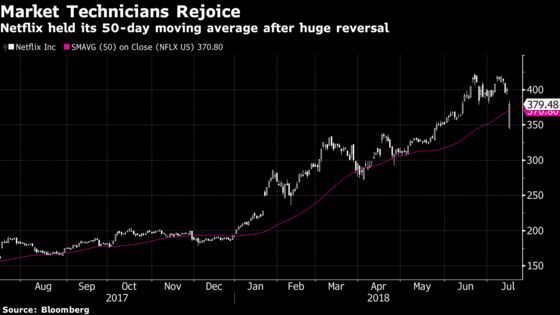 The weakness in equities lasted upwards of about an hour after the open, which is nothing compared to what we saw a few weeks ago when cloud software name Red Hat sucked the wind out of the momo trade with a dialed-back revenue forecast -- the iShares ETF that tracks momentum stocks (ticker MTUM) buckled under the stress of the cloud blowup and treaded water for about two weeks before only recently resuming its uptrend back towards its record high.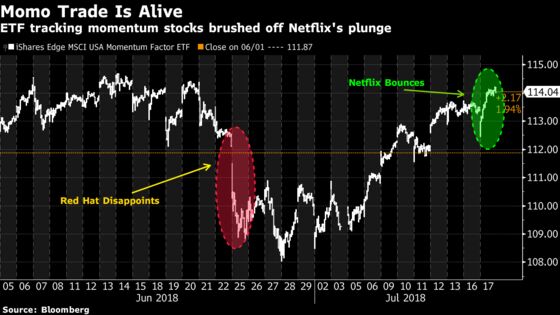 Macquarie downgrades Twitter (down 1.1% pre-market) to a neutral after the stock rallied 50% since the firm upgraded shares in late April; they cite limited near-term catalysts and don't see product improvements having dramatic impacts on the company's ability to attract new users..
Goldman slashes CLX to a sell on earnings risk and unsustainably high valuation.. the bank is also cautious on the dental names after a survey signaling a slowdown in spending suggests guidance may be at risk for XRAY and PDCO..
BMO downgrades PCAR to market perform ahead of 2Q results, citing investor concerns about a peaking Class 8 truck industry.. Citi drops WIN and UNIT to sell as Windstream's operating and financial performance poses "substantial risk" to both stocks
And Loup Ventures' Gene Munster, a former analyst with Piper Jaffray who previously said that Tesla's Model 3 may "change the world" like the iPhone, issued an open letter to Elon Musk, asking him to apologize for his outburst against a Thai cave diver (he apologized overnight) and to consider taking a sabbatical from tweeting..
Tick-by-Tick Guide to Today's Actionable Events
Today -- IPO lockup expiry: ADT, MOR, NINE
7:00am -- MBA Mortgage Applications
7:30am -- NTRS earnings
7:45am -- ABT earnings
8:00am -- GWW earnings
8:30am -- Housing Starts
8:30am -- MS earnings call
8:30am -- CBIO call to discuss hemophilia program results
8:45am -- Kudlow keynote at Delivering Alpha conference
9:15am -- Avenue Capital's Marc Lasry at Delivering Alpha
9:45am -- Citadel's Ken Griffin at Delivering Alpha
10:00am -- Fed Chair Powell appears before House panel
10:00am -- House committee holds hearing on cryptocurrencies
10:30am -- DoE oil inventories
10:30am -- UAL earnings call
11:45am -- Kynikos' Jim Chanos at Delivering Alpha
12:15pm -- Carlyle Group's David Rubenstein at Delivering Alpha
2:00pm -- Fed Beige Book
2:15pm -- Oaktree Capital's Howard Marks at Delivering Alpha
2:30pm -- Senate subcommittee holds hearing on trade at U.S. ports of entry
2:45pm -- Sarissa's Alexander Denner and Margate's Samantha Greenberg at Delivering Alpha
4:01pm -- CP, PTC earnings
4:02pm -- TCBI earnings
4:05pm -- IBM, AXP, NDLS, RECN, SLG (roughly), UFPI, KMI earnings
4:10pm -- AA, BMI earnings
4:15pm -- EBAY, PLXS (roughly), URI, CCI, UMPQ earnings
4:30pm -- BXS earnings
4:45pm -- Steve Bannon at Delivering Alpha
5:00pm -- CCK earnings (roughly); IBM, EBAY, AXP, AA earnings calls
Tonight -- IPOs to price: AFG (AFGL), Rubius Therapeutics (RUBY), Tilray (TLRY), Replimune (REPL), Allakos (ALLK), Constellation Pharma (CNST), Establishment Labs (ESTA), First Western (MYFW), Dermadoctor (DDOC)