Momentum Stocks Face Second Test This Week as Tech Earnings Loom
(Bloomberg) -- Salesforce.com Inc. helped lift momentum stocks with a rosy outlook earlier in the week. A slew of earnings reports from high-profile technology companies on Thursday will help investors determine whether the optimism was warranted.
Workday Inc., VMware Inc., Splunk Inc. and Palo Alto Networks Inc. are all scheduled to report financial results after markets close. Investors will be paying close attention to sales forecasts and comments about the economy and customer demand.
In addition to Salesforce, comments from Federal Reserve Chairman Jerome Powell that were perceived to be dovish sent technology stocks soaring on Wednesday. Rising interest rates have been a source of concern for tech investors, along with the U.S.-China trade war. With a loss of 0.8 percent on Thursday, the information technology group of S&P 500 companies is still down 11 percent since the start of October.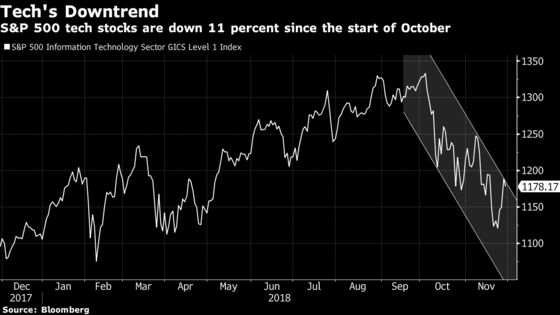 Workday, a maker of human resource software, is expected to report revenue growth of 30 percent in the third quarter, according to the average analyst estimate compiled by Bloomberg. The stock is up 43 percent since the start of 2018. Splunk, the cloud-based software company that has gained 21 percent this year, is projected to have revenue growth of 32 percent in the quarter. Infrastructure software company VMware is expected to report 10 percent revenue growth in the quarter. Its shares are trading near a record high.