Molson Coors Sinks Most Since May After Restatement, Sales Drop
(Bloomberg) -- Molson Coors Brewing Co. fell the most in nine months Tuesday after the company posted sales that missed projections and said it was restating two years of results over tax accounting errors.
Sales amounted to $2.42 billion last quarter, the company said Tuesday. That fell short of the $2.54 billion average of analysts' estimates.
Molson Coors has struggled to boost volume growth in the U.S., its biggest market, as consumers often opt for wine and spirits. That measure sank 5.1 percent in the fourth quarter, driven by declines in its premium light and economy products. Volumes also dropped in Canada, while its European and international businesses continue to be bright spots.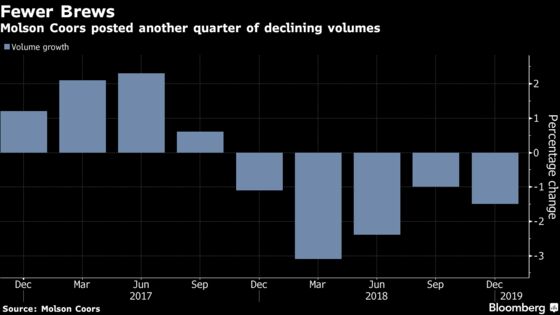 The shares fell as much as 9.2 percent to $59.32 in New York, the biggest intraday decline since May. Including Tuesday's slump, the stock has now lost 38 percent in two years, at a time when the S&P 500 Index gained 18 percent.
The brewer said the restatements related to deferred tax liabilities for its partnership in MillerCoors. Management concluded that the impact of the errors are "not material," but there had been a "material weakness" in the company's internal control over financial reporting. The company said it overstated net income by $399.1 million in 2016 and understated it by $151.4 million in 2017.
What Bloomberg Intelligence Says:

"Pricing may again need to be raised more than raw material costs for Molson Coors to achieve the net-debt reduction required to restart dividend payments in 2019."
Duncan Fox, Global Beverage Analyst

Click here to view the research.