Byron Allen Makes $8.5 Billion Offer for Tegna
(Bloomberg) -- Comedian and TV producer Byron Allen has made a $20-a-share, all-cash offer for Tegna Inc. in a deal that values the TV station owner at $8.5 billion, including debt, according to a person familiar with the situation.
The media mogul and on-air talent plans to merge his existing businesses, which include 15 local TV stations and the Weather Channel cable network, into an entity called Allen Media, according to the person, who asked not to be identified because the discussions were private.
When combined, the Tegna and Allen businesses would have total cash flow of about $2 billion, the person said.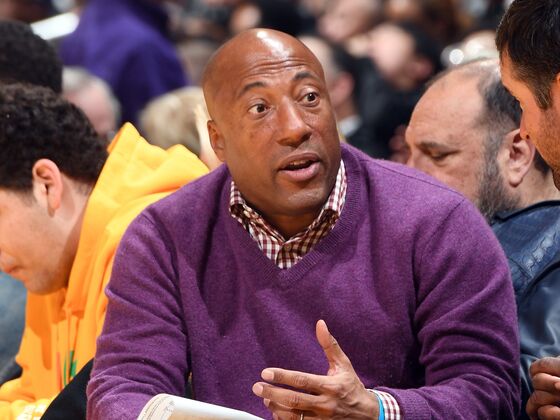 Tegna declined to comment, citing a policy not to discuss market rumors. Shares in the company fell 1.6% as of 10:59 a.m. in New York, reversing a pre-market gain of as much as 8.9% Thursday morning before the market opened.
Allen would be competing with a bid of about the same size from Gray Television Inc., but that deal includes stock and may require the divestiture of stations. Apollo Global Management Inc. has made its own roughly $8.5 billion cash offer.
The question is whether Allen can challenge deep-pocketed bidders in his quest to grow his media empire. His deals so far have been smaller, including a $290 million acquisition of 11 stations from USA Television.
He took part in Sinclair Broadcast Group Inc.'s $9.6 billion acquisition of the Fox regional sports networks from Walt Disney Co. last year, but as a minority investor.
Tegna, the former TV-station arm of Gannett Co., was spun off in 2015 and retained the old Gannett's trading history. It has about 60 TV stations in 51 U.S. markets, reaching about 38% of U.S. households. Gray operates local stations in 91 markets, mainly in the South, Midwest and Southwest, reaching about 24% of U.S. households.
Tegna has also been the target of activist investors in recent months. In February, it rejected all four director nominees put forward by Standard General LP, its third-largest holder at about 9.7%. Standard General nominated the potential members in January after its calls for board representation and a strategic review hit an impasse.
The investment firm said last week that it was ready to help Tegna evaluate takeover offers.
"We believe that the Tegna board, with the assistance of independent advisers, needs to run a full and fair process to explore all alternatives to maximize value for all shareholders," Standard General said in a statement. "We also understand that these proposals involve both cash and stock and all cash offers, and it is essential that the Tegna board carefully evaluate the benefits and risks of all available alternatives."
Donerail Group emerged in January as another activist holder in Tegna, pushing it to explore a sale.