India Plans to Send a Crew of Three to Space by 2022
(Bloomberg) -- India plans to spend $1.4 billion to send a crew of three to space by 2022, spurred by Prime Minister Narendra Modi's goal that will help the country break into an elite club.
A module with three astronauts will be launched from Sriharikota, a tiny barrier island in southeastern India, taking the passengers on a seven-day voyage around the Earth, according to the government. The capsule will then land in the Arabian sea, near the western coastal state of Gujarat.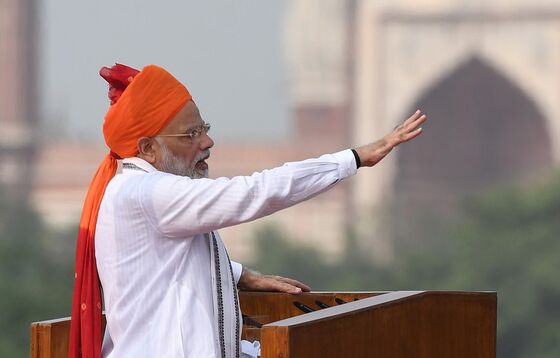 India, the world's cheapest space explorer, is competing with the likes of the U.S., China, Russia and billionaires such as Jeff Bezos and Elon Musk in exploring space. The Indian Space Research Organisation, the nation's equivalent of the National Aeronautics and Space Administration, plans to land near the Moon's south pole early next year -- an area where no nation has gone before -- and explore the potential for mining helium-3, a source of waste-free nuclear energy that could be worth trillions of dollars.
Modi's call, made in his Independence Day speech this month, to send an Indian into space in a vehicle made and launched from the country is akin to former U.S. President John F. Kennedy's announcement in 1961 that pushed NASA to send a man to the moon.
The plan, which will put the South Asian nation on track to become the fourth to send humans to space, will create as many as 15,000 jobs and will be preceded by two unnamed test flights, K. Sivan, ISRO's chairman, told reporters in New Delhi on Tuesday. Prototypes of space suits, a crew-escape system and life-support system are already in place, he said.
India has specialized in low-cost space launches since the early 1960s, when rocket sections were transported by bicycle and assembled by hand inside St. Mary Magdalene Church in Thumba, a fishing village near the tip of the Indian peninsula. It has since conducted missions to Mars and the moon, where an unmanned mission showed the likelihood of water formation.