Moderna Prices Its $1.3 Billion Share Sale to Fund Virus Vaccine
(Bloomberg) -- Moderna Inc. plans to raise as much as $1.3 billion through a sale of shares to fund manufacturing of a coronavirus vaccine seen as one of the frontrunners in the race for immunization against the widening pandemic.
The U.S. biotechnology firm will sell 17.6 million shares priced at $76 a piece, according to a statement Tuesday. The price represents a 5% discount to Monday's closing price.
Morgan Stanley is the sole book-running manager for the offering that allows underwriters to buy an additional 2.64 million shares, the statement said. Bloomberg reported the share sale plan earlier.
Shares jumped 20% on Monday after the company revealed positive early results from its experimental vaccine for Covid-19, capping off a 309% rally this year.
Moderna's vaccine is seen as one of the most promising candidates for immunization against the pathogen that has sickened over 4.8 million people worldwide and killed over 318,000 since it first emerged in China last December. A successful vaccine is a crucial step toward lifting lockdowns, easing social distancing measures and safely reopening economies gutted by strict containment efforts.
The promising results that Moderna reported were just a sample from the small, first study designed to look at the safety of the shot in human volunteers. But they showed no major safety worries - a key first hurdle since a vaccine would be given to millions of otherwise healthy people.
"This is a very good sign that we make an antibody that can stop the virus from replicating," Moderna Chief Executive Officer Stephane Bancel said in an interview Monday. The data "couldn't have been better."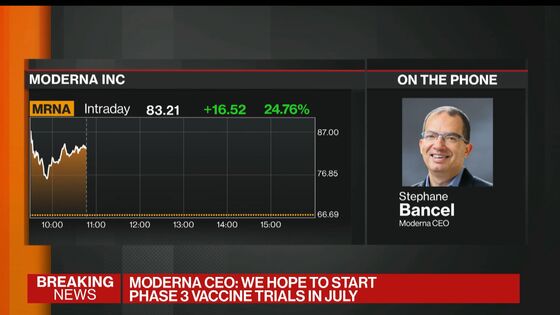 The biotech firm is moving ahead with plans for a larger test to pick a dose of the vaccine and further study its effectiveness, as well as a phase 3 test that will administer the vaccine to many thousands of patients.
The safety profile appeared to be good, Bancel said, and the reactions were typical of vaccines. Three patients who got a high dose of the vaccine had more severe side effects, according to a company presentation. That dose won't be used in later trials.
Side effects seen in the trial included fatigue, fever, muscle pains and headache but all the symptoms resolved within a day.