Moderation in U.S. Growth Projected at End of Tumultuous 2020
(Bloomberg) -- U.S. economic growth decelerated in the final months of a tumultuous 2020 as a surge in Covid-19 infections suppressed consumer spending even as housing and manufacturing continued to flourish.
The government's initial estimate of fourth-quarter gross domestic product on Thursday is projected to show a 4.2% annualized gain, according to the median forecast in a Bloomberg survey of economists. While nearly double the average growth pace of the decade-long expansion, it's a significant slowdown from the third quarter's record 33.4% surge.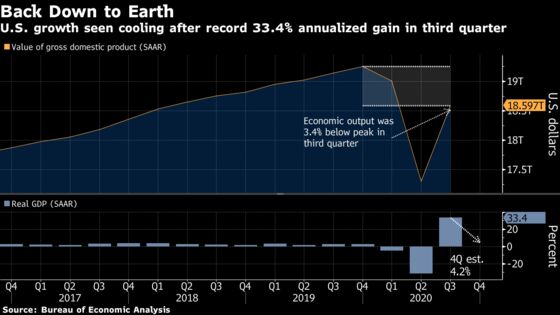 Altogether, the report will underscore the dichotomy of the recovery in the world's largest economy. On one hand, housing is booming, manufacturing is steadily strengthening and soaring stocks are reflecting confidence in the outlook. At the same time, the labor market continues to struggle with millions still unemployed and a resurgent pandemic that's weighing on consumers, service providers and economic activity.
Here's what to watch for in Thursday's GDP report:
The deceleration in growth largely stems from a pullback by households.
In the third quarter, a 41% jump in consumer spending was the main driver of economic growth. But in the October to December period, the make-up of growth will likely be more diverse. The median estimate in a Bloomberg survey of economists is calling for a 3.1% annualized gain.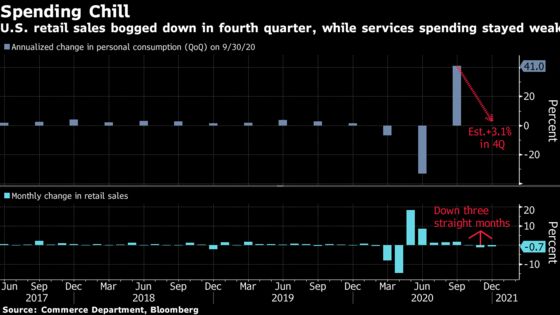 The quarter started on firm ground, but some states reimposed restrictions on businesses and activity to curb the spread of the virus in November and December, limiting Americans' ability and willingness to go out and spend. At the same time, employers in the leisure and hospitality sector shed nearly half a million jobs in the final month of the year, a stumbling block for an already struggling job market.
In November and December we saw "a consumer that was held back by the rise in Covid cases that led to greater restrictions on a state and local level," said Michelle Meyer, head of U.S. economics at Bank of America Corp. At the same time, a lapse in stimulus led to a pullback in savings, she said.
What Bloomberg Economics Says...

"Growth was more diversified in the final quarter, away from consumer spending. While consumers significantly cut back spending amid renewed restrictions in December, the business sector continued to ramp up investment, driven by the need to replenish impaired inventories, and housing benefited from structural shifts the crisis instilled."

-- Carl Riccadonna, Yelena Shulyatyeva, Andrew Husby and Eliza Winger, economists

For the full report, click here.
Brett Ryan, senior U.S economist at Deutsche Bank AG, said he expects to see a hit to health care spending as well, given many hospitals had to clear bed space for Covid-19 patients and put off elective surgeries.
Like consumer outlays, business investment likely grew at a slower pace in the final months of the year. Economists at Credit Suisse Group AG estimate business investment grew by 10.8% in the period, driven in part by equipment purchases.
The GDP report will also reflect a still-booming housing market. A combination of record-low mortgage rates and demand for larger houses with enough room to work and learn from home has fueled a swift recovery in residential real estate.
Data on sales and homebuilding have been strong recently, with starts rising in December at the fastest pace since 2006. Builder backlogs indicates construction will remain firm well into this year.
Bank of America's Meyer said she expects annualized residential investment growth to top 30% in the fourth quarter after a 63% annualized rate in the previous period.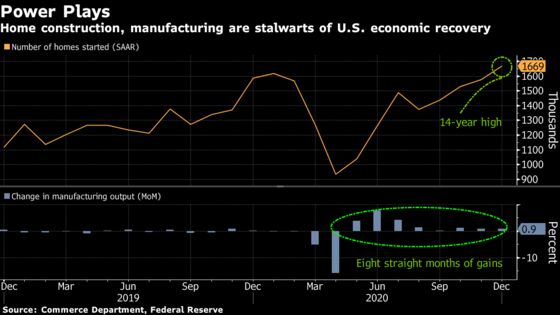 Further strength in manufacturing will also be evident. Producers are still working to replenish depleted stockpiles after widespread government shutdowns last spring halted output. The growth boost from inventories will be particularly acute this report, but the category should keep adding to GDP into 2021.
Contributions from inventories should help offset a drag from net exports. The trade deficit widened to the second largest on record in November, driven by a surge in merchandise imports.
Despite the fourth-quarter slowdown, the economy's prospects this year have improved. A $900 billion pandemic relief package that included both stimulus checks for millions of Americans and financial help for small businesses was signed in late December. And there are expectations for even more aid, helping explain why economists are upgrading the nation's growth prospects.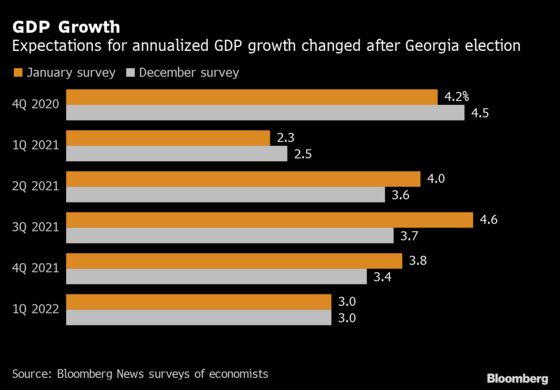 On Capitol Hill, lawmakers are at odds over the price tag of another round of stimulus. Democrats see the growth slowdown and weakening job market as reason to move forward on a larger aid bill, while Republicans are hesitant considering the late-December package.
Nonetheless, even if roughly half the $1.9 trillion in aid that's proposed by President Joe Biden is passed, growth could exceed 6% this year, Meyer estimates.