Model 3 Tracker Nearly Nails Tesla's Latest Production Result
(Bloomberg) -- Bloomberg's Model 3 tracker just came the closest it has yet to predicting production of Tesla Inc.'s all-important sedan.
The carmaker on Tuesday reported making 53,239 Model 3s last quarter. Bloomberg's tracker overestimated output by just 0.4 percent, or fewer than 220 cars. That's closer than Wall Street analysts who, on average, were projecting production of about 50,416 units.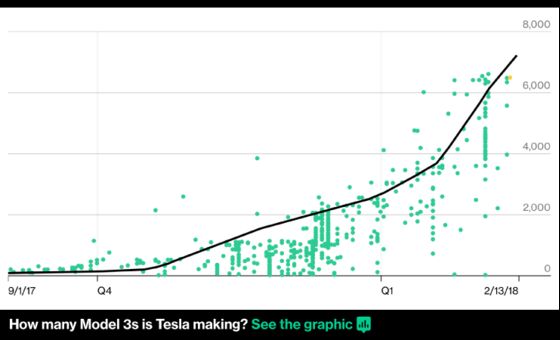 Bloomberg introduced the tracker in February to monitor Tesla's rollout of the Model 3, using vehicle identification numbers to estimate production in real time. In addition to U.S. government data, it also relies on social media reports and direct communication with Tesla owners.
Back in the first quarter, the tracker underestimated the actual production total by less than 5 percent. In the second quarter, the model low-balled Tesla's production by just 2 percent. In each instance, the tool was more accurate than the Wall Street's consensus.
For more on Tesla, check out the Decrypted  podcast: