Model 3 Tracker Nails Tesla's Exit From 'Production Hell'
(Bloomberg) -- Tesla Inc. has unmistakably left what CEO Elon Musk described as "production hell." 
On Wednesday, the company reported that production of its all-important Model 3 sedan had reached a new high of 61,394 units in the fourth quarter, bringing the 2018 total to more than 150,000 and showing that Tesla appears, finally, to have made the transition to consistent mass-production levels. That's a big leap from making just 1,550 Model 3s in the fourth quarter of 2017. 
Tesla's capacity to produce Model 3s was one of the biggest automotive mysteries of 2018. A year ago, Bloomberg set out to crack it by developing an experimental model to monitor the rollout in realtime. Bloomberg's fourth-quarter estimate was off by less than 0.5 percent of Tesla's reported production. The previous quarter, it was off by just 0.4 percent.

Our model relies on two sets of Vehicle Identification Numbers (VINs). First, we monitor batches of VINs that Tesla registers with U.S. safety regulators prior to production. Then we directly communicate with new Tesla owners, who share their VINs with us. 
For the first few quarters, the model was frequently updated for fine-tuning. This was the first quarter we didn't make any changes at all. 
The tracker isn't perfect. In the fourth quarter, the results from our two data sets diverged significantly. Tesla registered tens of thousands of new VINs with regulators early in that quarter—driving that model too high—while the reported VINs came up short. As in the past, the two data sets complimented each other well, but the collective model veered a bit off course at various times during the quarter.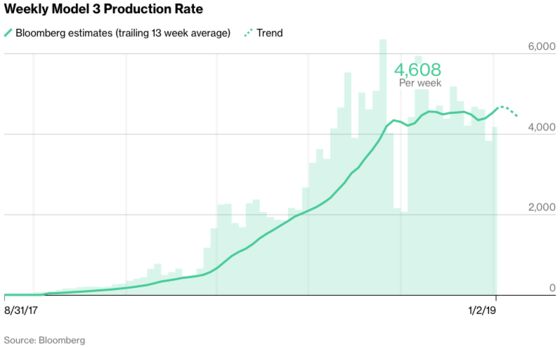 The tracker also had a big upswing in the last few days of the quarter. Three factors contributed to the rise in our estimates: 
A surge of new VINs reported by owners that filled in critical gaps in the data set. This can be attributed to Tesla's typical end-of-quarter push to deliver cars, which contributes to new VINs being reported to Bloomberg.
A batch of new VINs that Tesla registered on Dec. 30. ​​​​​It was the most significant batch registration for our model since October and boosted our estimate. 
A favorable comparison with the last week of the previous quarter, which our model estimated was particularly slow. 
Perhaps the most remarkable thing about Tesla's end-of-year results is how little attention is being paid to these production numbers. Shares plunged on the first trading day of 2019 after the company said it would cut prices of each of its cars by about $2,000 to partially offset the shrinking U.S. federal tax credit Tesla buyers are eligible for. In previous quarters, all eyes would have been on the eye-popping production of electric cars—a record for any automaker.  
The biggest question for investors going into 2019 is no longer whether Tesla can build cars by the hundreds of thousands, but whether it can sustain that kind of demand at prices that keep it profitable.