India's Equities Extend Rally as Sensex Climbs for a Second Day
(Bloomberg) -- Indian equities gained, with the benchmark index rising for a second day, extending its rebound from the worst losing streak since May 2011. Gauges of mid- and small-sized shares also advanced.
The S&P BSE Sensex climbed 0.4 percent to 35,898.35 at the close in Mumbai, after its steepest gain this month on Wednesday halted a nine-day decline. The NSE Nifty 50 Index rose 0.5 percent to 10,789.85. Both gauges ended above their 100-day moving average for a second day.
While India's economy is expected to be among the fastest expanding among major nations and corporate earnings growth is seen recovering from multi-year lows, investors are waiting to see whether national polls expected in May deliver a government that continues with policies aimed at boosting spending and productivity.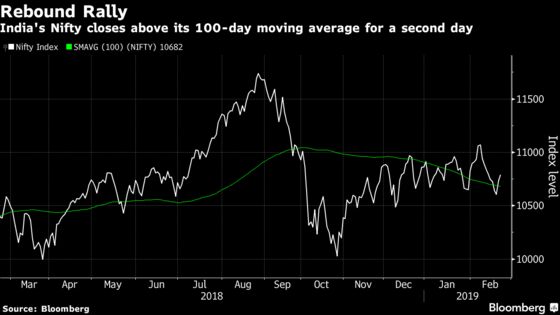 "Positive advance-decline ratio in the broader market indicates that Indian equities are nearing a bottom," said Rajendra Kumar Wadher, a Mumbai-based director at PRB Securities Ltd. "We expect the Nifty to touch 10,915 and 11,010 next week, but the markets will still trade in a range until the outcome of elections."
"The Indian market is right now only about elections and election results," said Vivek Ranjan Misra, head of fundamental research at Karvy Stock Broking Ltd. in Hyderabad.

"We see a definite direction for equities and a possible out-performance over emerging-market and global peers once this looming poll uncertainty is out of the way."
"We currently favor large companies over small-sized rivals amid the uncertainty," he said, advising investors buy shares of banks and engineering and construction companies.
Thirty-five of the 50 Nifty shares and 18 of the 31 Sensex stocks gained, while every two stocks rose for each that declined on the S&P BSE 500 Index
Seventeen of the 19 sector indexes compiled by BSE Ltd. advanced, led by the S&P BSE Basic Materials Index's 1.3% gain
The NSE Volatility Index dropped 5.9%, extending a two-day decline to 13%
The S&P BSE MidCap Index gained 0.9% and the S&P BSE SmallCap Index added 1.1%
Corporation Bank jumped by its daily 20% limit, the most since its 1997 listing. It paced a rally of 12 state-owned lenders after India approved an additional funding plan.
Page Industries Ltd., the Indian franchise of Jockey International Inc.'s undergarments, gained 4% after Goldman Sachs upgraded the shares to buy
Reliance Nippon Life Asset Management Ltd. surged by a record 20% after parent Reliance Capital Ltd. offered venture partner Nippon Life Insurance Co. its entire remaining 42.88% stake

Reliance Capital jumped 11%
Analyst Notes/Market-related Stories
Fitch Bucks Consensus And Rules Out Easy India Mandate for Modi
Shree Cement Upgraded to Buy at CLSA; PT 19,000 Rupees
Modi's Farm Plan is 'Wild Card' in Tight India Polls, UBS Says
Britannia Raised to Outperform at Credit Suisse; PT 3,400 Rupees