Missing Saudi Dissident Puts Prince's U.S. Rapport in Spotlight
(Bloomberg) -- As the mystery continues to swirl around missing Saudi critic Jamal Khashoggi, what's already become clear is how much is at stake for Saudi Arabia's young leader and a foreign policy that's testing the boundaries of his coveted relationship with the U.S.
Donald Trump's presidency has emboldened Crown Prince Mohammed bin Salman to take risks abroad and clamp down on dissent at home, including the incarceration of fellow royals and millionaires at the Ritz-Carlton Hotel in Riyadh as well as the activists criticizing his leadership.
But the kingdom is now facing the kind of pressure from Washington rarely seen over its economic boycott of fellow U.S. ally Qatar or the war on Yemen that's led to the world's worst humanitarian crisis.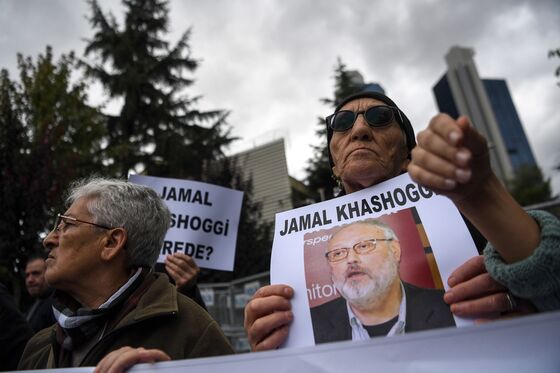 The Saudi government has said it had nothing to do with Khashoggi's disappearance at its consulate in Istanbul. American lawmakers, though, pushed Trump to raise the issue with the Saudis. The president confirmed Wednesday that there's been at least one call with Saudi leaders, adding that he received a letter from Khashoggi's fiancée and might host her at the White House soon.
"I'm not happy about it," Trump said of Khashoggi's disappearance. When asked whether he's demanding answers from the Saudis, Trump said, "yes we are. We are demanding everything."
The rapid turn of events also signals how, for the first time since Prince Mohammed consolidated his power two years ago, senators from Trump's own party are threatening Riyadh with serious economic and political pressure, including possible restrictions on future arms sales.
Support for Saudi Arabia in the U.S. Senate is "the lowest ever," said Republican Senator Bob Corker, the head of the Foreign Relations Committee. The controversy over Khashoggi threats to "drop it off a cliff," he told reporters in Washington on Wednesday.
The question is whether the affair becomes a larger tipping point for the de facto Saudi ruler, if not a rupture in his bond with the U.S.
One side of Prince Mohammed is the leader trying to transform an ultra-conservative Islamic kingdom. The other is a 33-year-old who some western diplomats say is increasingly becoming a loose cannon and upending the country's role as a predictable partner.
"The brazenness of this episode calls into question whether the decision-makers in Riyadh can adequately assess the consequences of their actions," said Gregory Gause, a professor of international affairs and a Saudi specialist at Texas A&M University. "The very minimal gain of the silencing of Jamal is so insignificant compared to the implications for relations with Turkey and even with the U.S."
The unwavering support that Trump has extended to Prince Mohammed may not last if the prince doesn't explain what happened to Khashoggi -- irrespective of who or what was behind his disappearance, said Kamran Bokhari, senior lecturer on Middle Eastern geopolitics at the University of Ottawa's Professional Development Institute.
The longer it persists, the harder it gets for the Saudis to ignore what's being ascribed as a major blunder.
"If Khashoggi is not released and if this situation turns ugly and the rumors of his death are true, it will really undermine the ability of Washington to continue doing business with Riyadh," Bokhari said. Among all the foreign policy crises that have rocked Saudi Arabia under Prince Salman, Khashoggi's case could be the most "black-and-white moral issue," he added.
Unfolding Case
The one undisputed fact is that Khashoggi, 59, was seen walking into the Saudi consulate on Oct. 2 and wasn't seen leaving it.
Turkish officials have said he was murdered inside the building, which the Saudis have vehemently denied. Turkish President Recep Tayyip Erdogan told them to provide evidence that Khashoggi left of his own free will, a claim backed by Prince Mohammed in an interview with Bloomberg News last week.
In the latest twist, the Washington Post reported that U.S. intelligence services intercepted communications of Saudi officials discussing a plan to capture Khashoggi, a columnist for the newspaper. It cited a person familiar with the communications, which were intercepted before he vanished.
Trump said he was "very concerned" over Khashoggi's disappearance, albeit stopping short of criticizing the Saudis. It followed his comments on Oct. 2 that the Saudi king wouldn't last two weeks without U.S. support as he increased pressure on the Gulf ally to curb rising oil prices and pay more for military protection.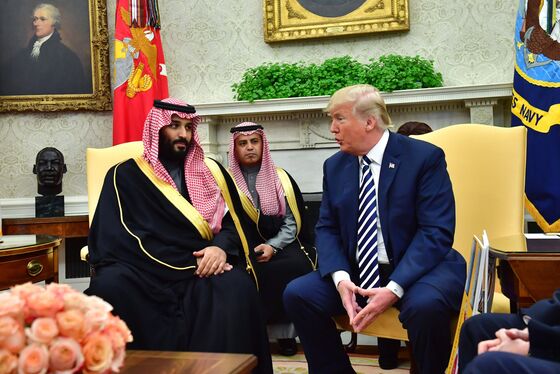 The alliance has been mainly cosy, though. Trump visited Riyadh on his first overseas trip and has lavished praise on the crown prince. He welcomed him to the White House in March and said they have become "very good friends over a fairly short period of time." The crown prince suggested to Bloomberg he's emulating some of the U.S. president's policies. "I love working with Trump," he said.
The American rhetoric will have to get tougher, said Paul R. Pillar, a former CIA officer who is a professor at Georgetown University. The Trump administration "will have to respond to outrage over the incident with words of admonition to Saudi Arabia," he said.
Prince Mohammed has charted a more aggressive foreign policy, a significant departure from previous Saudi leaders who chose to mainly use financial might to assert the kingdom on the global stage. The behind-the-scenes diplomacy favored by previous kings was in stark contrast to the more brazen policies by other players in the region, like Iran.
Since rising to power, the prince has deployed his military to Yemen, where a Saudi-led coalition is struggling to defeat Shiite rebels after more than three and a half years of brutal fighting. His move to impose an embargo on Qatar helped deepen divisions in the six-member Gulf Cooperation Council. The Saudi-led coalition accuses the gas-rich state of financing terrorism and meddling in other Arab states' affairs, accusations Qatar denies.
He cut ties with Canada after Foreign Minister Chrystia Freeland called on Aug. 2 for Saudi authorities to release a human rights activist. Saudi Arabia only recently resolved a diplomatic crisis with Germany that lasted almost a year.
And if his government is implicated in Khashoggi's disappearance, then there's a risk of further antagonism with Turkey. Turkey is sympathetic to the Muslim Brotherhood, an Islamist organization that several Gulf states, including Saudi Arabia, have banned and designated as a terrorist group. It also stepped in to provide supplies to Qatar.
But while the relationship with Turkey will be compromised as a result of the accusations by Ankara, it's unlikely to undermine the Saudis, said Ayham Kamel, head of the Middle East and North Africa research at Eurasia Group.
"There's perhaps an over-reliance on the layer of protection that the Trump administration has been providing the Saudi leadership, and a view in Riyadh that any diplomatic crises wherever they exist are unlikely to affect Saudi Arabia's strategic interests in the world," said Kamel.
In a potential face-saving exercise, Bokhari, the University of Ottawa professor, said whatever happened to Khashoggi might at the end be blamed on an operation gone wrong that Prince Mohammed hadn't ordered.
The prince can gain from that, though it also involves the cost of exposing that "you don't have your system in order," Bokhari said.
Indeed, it's unlikely to be a breaking point for a Saudi-U.S. alliance that's too interwoven in military, intelligence and economic networks, but the Khashoggi case is likely to cool it, said Gause, the professor at Texas A&M.
"Feelings in Congress have always been negative toward Saudi Arabia," he said. "Now they will be worse."