Missing Journalist Subjects Saudis to Scrutiny
The disappearance of Jamal Khashoggi, a Saudi journalist critical of his country's leadership, has evoked unusual alarm in the Gulf kingdom's most important ally.
President Donald Trump, who has cultivated a close relationship with the Saudi royal family even as he's lamented high oil prices, said yesterday he was "very concerned" about reports Khashoggi may have been murdered after entering the Saudi consulate in Istanbul on Oct. 2 to obtain paperwork he needed to remarry.
Vice President Mike Pence went further, saying if the claims were true "this is a tragic day" and "the free world deserves answers." Several U.S. lawmakers – in a rare threat against a key Middle East partner – warned Saudi Arabia could face economic consequences if it killed Khashoggi, a contributor to the Washington Post who has lived in voluntary exile for a year.
The Saudi government has vehemently denied abducting or killing Khashoggi, saying he left the consulate shortly after entering. Turkish President Recep Tayyip Erdogan has demanded proof, while sounding relatively restrained so far on how Turkey might proceed from here. 
If evidence does implicate the Saudi government in Khashoggi's disappearance, it would mark a sharp escalation in how far authorities are willing to go to silence criticism. The first casualty would be the kingdom's already fraught relationship with Turkey. But the damage could spread much further.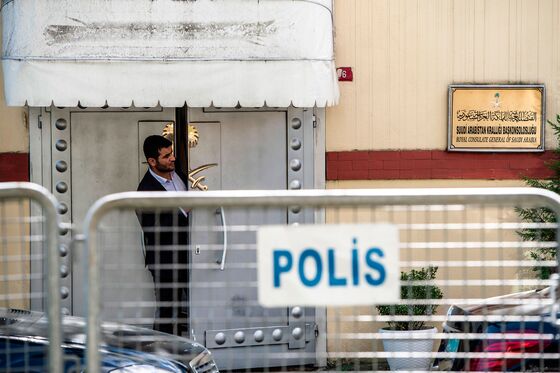 Costs of trade war | The International Monetary Fund said the world economy is plateauing as it cut its growth forecast for the first time in more than two years, blaming escalating trade tensions and stresses in emerging markets. Risks to the global outlook have risen in the last three months and tilt to the downside, the IMF said. Threats include a worsening of tensions between the U.S and China, and a sharper-than-expected rise in interest rates.
Touting Obamacare | Numerous Republicans who are supporting attempts to dismantle President Barack Obama's signature health care law are also vaunting their support for one of its core provisions in campaigning for the midterms. By defending rules that prevent insurers from excluding pre-existing conditions from coverage, they've handed a line of attack to Democrats.
Ghosts in the machine | A prolific North Korean hacking group has tried to steal at least $1.1 billion from global banks over the past four years, the cybersecurity firm FireEye said. The thieves evaded sophisticated defenses and pilfered more than $100 million from institutions in 11 counters including the U.S. before deleting networks to cover their tracks. The report raises new questions North Korea's willingness to become a responsible player on the world stage as the U.S. continues nuclear talks with Kim Jong Un's regime.
The Trump effect | The Nov. 6 midterm vote in California's Central Valley will test whether a Republican who has resisted Trump's hard-line immigration policy can prevail in a heavily Latino district where the agricultural economy relies strongly on immigrant labor. The seat is one of 14 in California that Democrats are trying to flip, the most of any state. Democrats need a net gain of 23 seats to gain control of the U.S. House of Representatives.

Team builder | A woman who represents millions of India's poorest citizens has become the country's most sought-after politician, Bibhudatta Pradhan and Shruti Srivastava write. Mayawati is an icon of the Dalits, one of the most oppressed groups in India, who are emerging as a swing force in next year's election. Polls show an opposition alliance could finish neck-and-neck with Prime Minister Narendra Modi's ruling coalition and Mayawati could hold the key to drawing those disparate parties together, despite being tainted with corruption allegations.
Brett Kavanaugh will hear his first arguments today as a Supreme Court justice after Trump apologized to him and his family for the bitter battle over his confirmation and declared him "innocent" of the sexual assault allegations that nearly derailed his nomination.
And finally ... One of Australia's most distinctive buildings, the Sydney Opera House, is set to be transformed into a giant advertisement for a horse race today, triggering protests against the commercialization of the cultural icon. More than 150,000 people signed an online petition calling for the World Heritage Site to be protected. But Prime Minister Scott Morrison said he couldn't understand the outrage, describing the Jorn Utzon-designed performing arts center as "the biggest billboard Sydney has."