Miracle in Midtown: Tiny House May Be Answer to a Global Crisis
(Bloomberg) -- As heat and humidity soared and New Yorkers slowed their famously fast strides to cope, a small miracle happened in Midtown: A single-family house was assembled in three days.
The tiny 22-square-meter (237-square-foot) prototype, on display on United Nations Plaza, is designed for a family of four. It's self-sustaining, producing drinkable water from the air, energy from the sun and food from a vertical vegetable garden embedded in the exterior walls. And at an expected price of about $35,000, it may provide an affordable answer to a global housing shortage.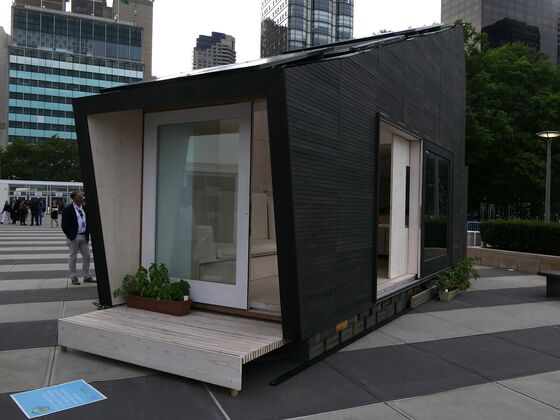 "In this climate, this home would produce enough food for a family of four for about 260 days" out of a year, said Anna Dyson, a professor of architecture and forestry and environmental studies at Yale University. "In better climates -- in Africa, for example -- it could actually produce a surplus of food."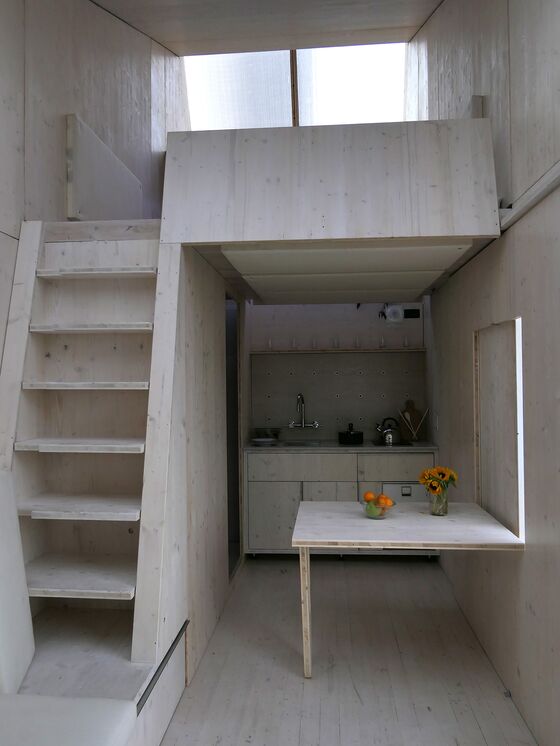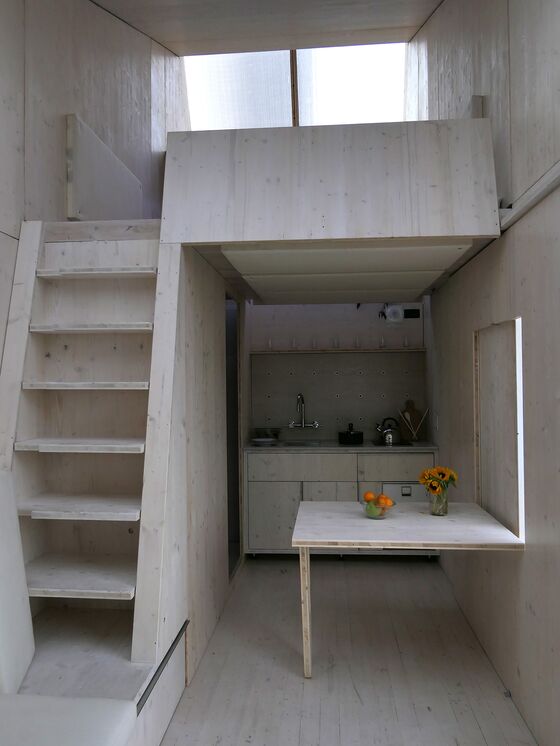 Yale's Center for Ecosystems in Architecture and New Haven, Connecticut-based Gray Organschi Architecture collaborated with UN environmental organizations to design, build and install the house, called an Ecological Living Module. Before the three days of construction on UN Plaza last month, components of the home were manufactured offsite over about four weeks.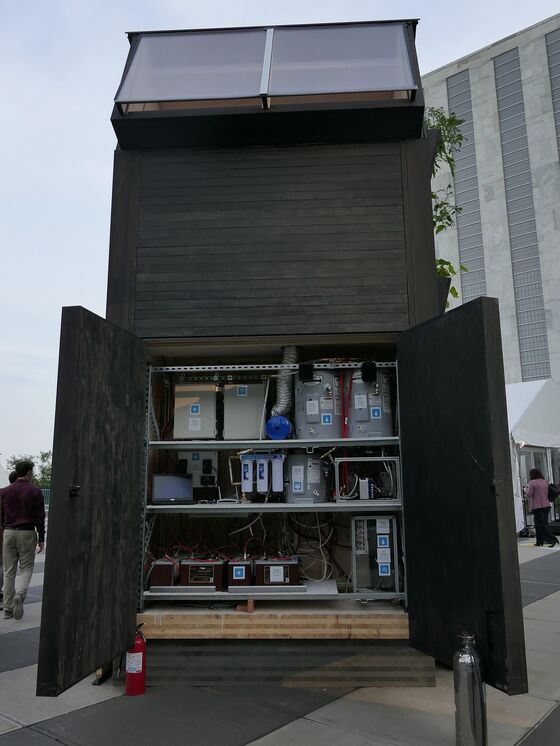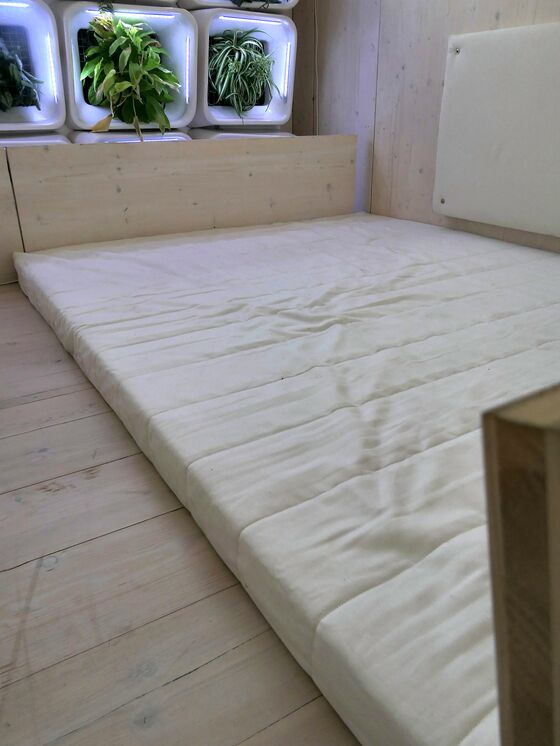 In high humidity -- think Manhattan in August -- the house could produce about 20 liters of drinkable water a day. Around the globe, about 844 million people don't have access to clean water, according to the World Health Organization.
If the micro-homes were to go into production, they'd be priced between $30,000 and $35,000 each, based on 1,000 units and not including any land, according to Alan Organschi, principal of the architecture firm. The median sale price of a new home in the U.S. was $302,100 last month.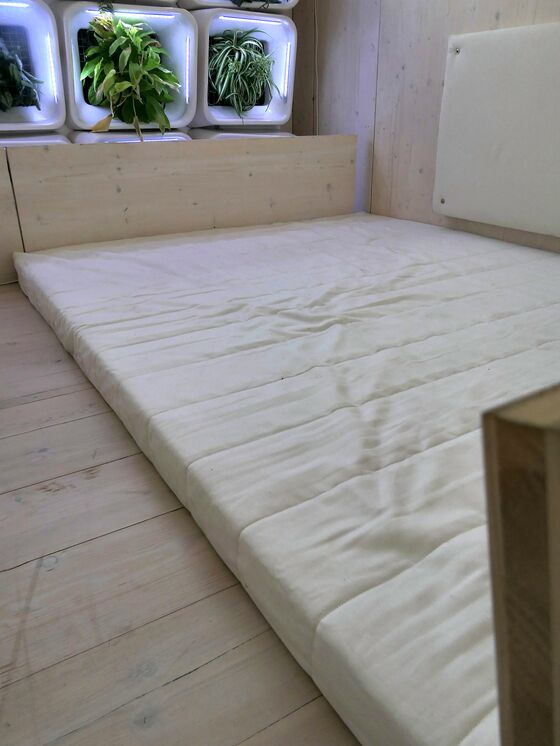 The modules would be ideal for sheltering people displaced by natural disasters, such as last year's hurricanes in Puerto Rico and Katrina in New Orleans, said August Organschi, Alan's son. At the UN, a crew of 16 people assembled the tiny house, which is made entirely of wood.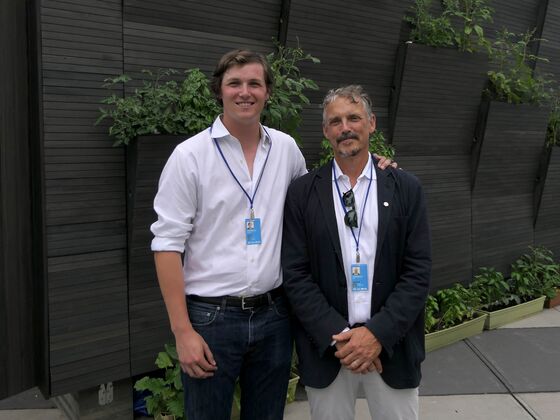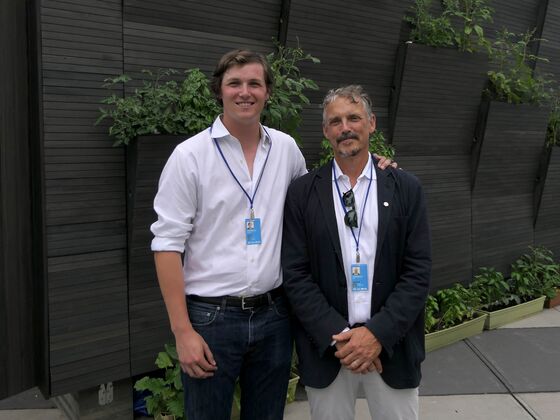 "Psychologically, people just feel better in wood," August Organschi said. "And environmentally, it's renewable."
The project's leaders want the prototype to spark public discussion and new ideas about affordable housing and eco-friendly living. It will remain on display on UN Plaza -- at First Avenue and 43rd Street -- until at least Aug. 11th, and will be moved to San Francisco in September.