Miners Regain Mojo as Outlook for Commodity Supercycle Heats Up
(Bloomberg) -- Two of the world's top miners boosted their dividends amid growing optimism about a new commodities boom driven by a rebounding global economy, massive stimulus and supply shortages.
Glencore Plc shares jumped to the highest in nearly two years as the miner and commodity trader said it would resume payouts after suspending them last year, while BHP Group paid a record dividend.
They're being buoyed by a rally in commodity prices as the world economy pulls out from the coronavirus-induced slump of 2020 -- fueled by huge government and central bank support -- against a backdrop of tight stocks of key resources. Copper hit a fresh eight-year high on Tuesday above $8,400 a ton, while platinum and tin also traded at multi-year highs.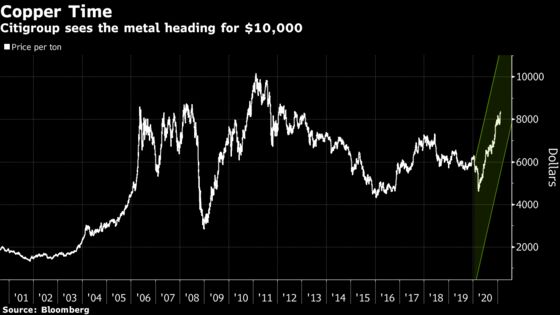 "We see a healthy, positive outlook," said Mike Henry, chief executive officer of BHP. "We do have a very constructive outlook in terms of commodity supply and demand fundamentals, this ties back to the world's ongoing development and growth and the energy transition that needs to occur will also be commodity intensive."
The positive comments come as a growing chorus of Wall Street analysts heralds a new commodities "supercycle" to match the bull run of the first decade of the 2000s. In addition to the 2021 economic rebound, that's being driven by long-term population trends and the wave of investments into infrastructure designed to fuel the transition to a greener economy.
Citigroup Inc. on Tuesday forecast that copper would hit $10,000 a ton "sooner rather than later."
"Prospects for a super-cycle in copper and aluminium are real," Citi analysts including Max Layton wrote. Other banks have issued similar predictions, with JPMorgan Chase & Co. last week arguing that a new supercycle had already begun.
"We're about to have another cyclical change in the demand for commodities," Mick Davis, who built Xstrata Plc into a $50 billion commodities powerhouse during the last super cycle, said in an interview last week after announcing a new vehicle to invest in battery minerals.
The coming demand for those materials "can match or even potentially dwarf the impact that the industrialization of China had at the start of the century," he said.
Still, there are reasons to be doubtful of a broad-based commodity supercycle. While oil prices have enjoyed a stellar rally from their low point in mid-2020, investors are increasingly looking ahead to the prospect of a peak in demand in the coming years as electric vehicles replace gasoline-fueled cars.
"We do not subscribe to the view that there will be a broader commodity super-cycle," the Citi analysts said, arguing that "oil's price recovery is not as sustainable as in metals."
For now, optimism about the economy and demand for key raw materials means investors are piling into stocks, with commodities right at the heard of that.
"This reflation trade is historic," said Mark Haefele, chief investment officer at UBS Wealth Management. Expectations for U.S. stimulus spending, and the impact of that "is a freight train that few institutional investors want to get in front of right now."
Ivan Glasenberg, the chief executive of Glencore, also noted the U.S. when asked about the bullish outlook that's taken hold among many investors.
While Chinese demand is "very strong," he said that whether a supercycle takes hold will depend on the rest of the world -- in particular if and when the U.S. starts a new infrastructure buildout.
"It's clear America is going to have to kick in on infrastructure and the Biden administration have said that," Glasenberg said. "When that kicks in, no question demand is going to be strong. Is it going to be as strong as the super cycle of 2002? Maybe stronger."