Milken Conference Goes Live, In Person and Virtually, After Covid Chaos
(Bloomberg) -- Carlyle Group Inc.'s successful track record proves that equal gender representation translates to investment returns, said Sandra Horbach, managing director and co-head of the firm's U.S. buyout and growth division. 
More than half of assets under management at Carlyle are managed by women, Horbach said Monday at the Milken Institute Global Conference in Beverly Hills, California. Horbach added that she hopes Carlyle's efforts will "set a great example for the industry."
"Obviously, we have a tremendous track record of success in investing," she said. "We're building the pipeline for future leaders that will represent all of us and not just the white men in the room, that has historically been what private equity is associated with."
Weak Firms Face 'Reckoning' When Stimulus Ends (4:18 p.m. NY)
M3 Partners' Mohsin Meghji said he expects more financial restructurings once the government unwinds pandemic-era stimulus measures -- opportunities that may take at least another year to materialize.
"As growth normalizes post-Covid over the next couple of years, and when you factor in that a lot of weak companies took on a lot of debt through Covid, we think there will be a little bit more activity," Meghji said.
M3 Partners, which provides turnaround advisory services, has seen one of the slowest years in corporate restructuring because of the government stimulus, he said. 
Meghji, M3's managing partner, said economic support from a White House infrastructure bill could further dampen restructuring activity, but that a "day of reckoning" is coming for companies after 2021.
Apollo's Matt Nord Says Firm Targeting Corporate Carve-Outs (4:05 p.m. NY)
Apollo Global Management Inc. pivoted toward corporate carve-outs and take-private deals as the economy rebounded during the pandemic, according to Matt Nord, the firm's co-head of private equity.
"Companies want to shed assets, narrow their focus, pay down debt," Nord said in Bloomberg Television interview, noting that there will be other opportunities given the amount of leverage in the system.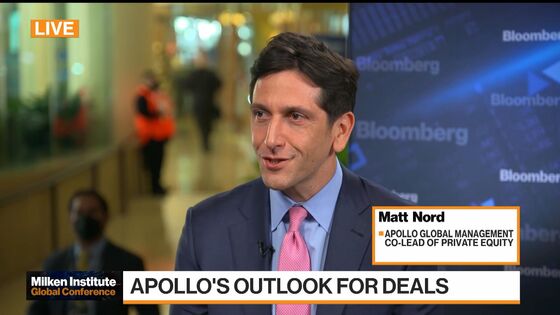 BMO's Barclay Says Capital Markets 'Robust Phase' Near End (3:55 p.m. NY)
Bank of Montreal investment-banking head Dan Barclay said capital markets are at the "end of the robust phase" that powered them through the pandemic and are shifting toward a more uncertain future.
"We're in a transition period," Barclay, the chief executive officer of BMO Capital Markets, told Bloomberg TV.
He added: "People are starting to reevaluate whether the future is simple and clean, or if we've actually got some headwinds coming our way, whether that's inflation, whether that's commodity prices, whether it's the pace of the economic recovery."
While the recent boom period has been marked by heightened merger activity, strong equity markets, low interest rates and subdued fears among investors, the conversations among market participants now are shifting to the risks ahead, he said.
Credit Suisse's Cohen Sees Excessive Leverage in Some Deals (3:12 p.m. NY)
Credit Suisse Group AG has started to say "no" to more debt deals, according to Jeff Cohen, the bank's global head of leveraged and acquisition finance.
Some deals have too much leverage but the market has been fairly disciplined and there aren't too many transactions raising alarms, Cohen said. 
Still, he said, "leverage is getting pushed and we'll ultimately see some mistakes."
Silver Rock Financial Chief Executive Officer Carl Meyer, participating in the same panel, said the gap between lower-risk and higher-risk investments has "compressed materially," with more than 75% of the global bond market trading at yields below 2%.
PGIM CEO Says ESG Investing Can't Be Translated to Passive (2:26 p.m. NY)
An active approach is key to ESG investment decisions, according to PGIM Chief Executive Officer David Hunt, saying it doesn't translate for passive or index-based strategies.
"If you really believe this is about a security by security-level decision, and you need to engage the owners of that security around ESG, then buying a market-cap weighted index for a cheap price, I would say, is absolutely not consistent with that philosophy," Hunt said.
ETFs focused on ESG -- or environmental, social and governance issues -- have a total of approximately $91 billion of assets, up from $39 billion a year ago, according to Bloomberg Intelligence estimates.
PGIM is the investment management arm of Prudential Financial Inc.
Golden Age for Private Credit, Attanasio Says (1:03 p.m. NY)
This is the golden age of private credit, Mark Attanasio, Crescent Capital Group's co-founder, said in an interview Monday with Bloomberg Television. 
"In 35 years we've never seen opportunity like this," Attanasio, who is also chairman of the Milwaukee Brewers MLB club, said on the sidelines of the 24th annual Milken conference. "It is more than just risk appetite, I think it is opportunity."
Attanasio said that in order to be profitable and attract capital in today's market you need to be big.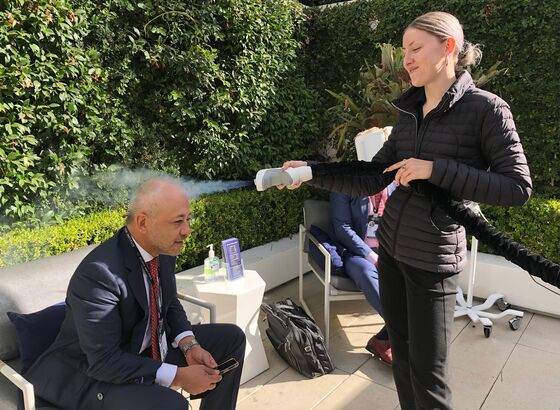 Minerd Says Markets Hooked on Stimulus (11:19 a.m. NY)
Guggenheim Partners' Scott Minerd said markets are becoming addicted to central bank stimulus, which he said is playing a role unlike any other in history.
The unprecedented stimulus the Federal Reserve unleashed on the U.S. economy during the Covid-19 pandemic, as well as similar central bank moves, has thrust monetary policy into uncharted territory, accounting for factors such as income and gender inequality, Guggenheim's chief investment officer said at the Milken conference.
"For the time being we're just addicted to this," he said. "Central banks are functioning in a role that they were never designed to do," he said, adding that central banks are now "running the markets."