Micron CEO Touts End of Volatile Memory Cycle as Shares Surge
(Bloomberg) -- Micron Technology Inc., the largest U.S. maker of memory chips, is benefiting from "exploding" data consumption that's helping smooth the boom-to-bust cycles of growth the industry experienced in the past, Chief Executive Officer Sanjay Mehrotra said.
Demand from data-center operators and new artificial intelligence computing have "muted" fluctuations in the need for memory chips while supply increases have become more measured due to the increased technological complexity of improving manufacturing, Mehrotra said in an interview in New York on Tuesday.
"All of these trends really point to a structural change and healthy fundamentals for the industry," Mehrotra said. "We see a stable environment."
Micron is among the best performing stocks in the S&P 500 index this year as the Boise, Idaho-based company capitalizes on an increase in the use of chips that store data in everything from smartphones to home appliances. The stock rose 6.4 percent Tuesday after the company announced a $10 billion share repurchase program.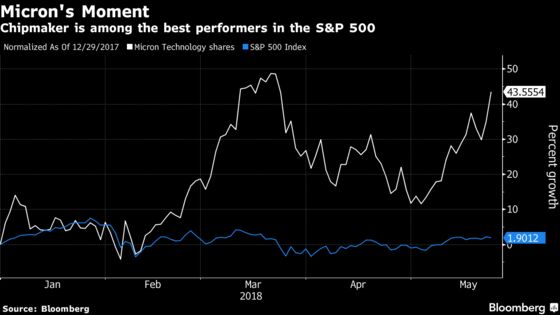 "We think it's a good time for us to be buying our stock," Mehrotra said, citing optimism about the future for the business and what he called a "low" price-to-earnings ratio of 7 times.
The memory-chip industry has traditionally been characterized by volatility, and Micron posted a net loss as recently as 2016. Analysts who cover the company, 86 percent of whom have buy ratings on the stock, are projecting that the industry has changed. The remaining manufacturers are less likely to flood the market with chips from new production as they chase market share -- a phenomenon that happened regularly in the past, causing prices to crash.
Micron bolstered that thesis on Monday when it raised profit and revenue forecasts for the fiscal third quarter well above the average of analyst estimates.
"I think sometimes the market doesn't fully appreciate how memory or storage are becoming more valuable today because they are enabling applications," Mehrotra said. "Artificial intelligence in the data center space is in very, very early innings. We have barely seen the tip of the iceberg here."
Micron competes with Samsung Electronics Co., the world's largest chipmaker, and SK Hynix Inc.