Mexico Trade Deal With U.S. Lets AMLO Focus on Domestic Goals
(Bloomberg) -- The trade deal reached with the U.S. and Canada removes a major cloud hanging over Mexico's president-elect Andres Manuel Lopez Obrador, allowing him to focus on domestic priorities of reducing poverty and drug violence once he takes office.
AMLO, as the leftist incoming president is known, this week praised the USMCA agreement and had only positive things to say after a phone call with U.S. President Donald Trump. Still, his next steps will likely be concentrated at home, with a push to root out corruption, reduce government inefficiency and restore peace after record years for homicide.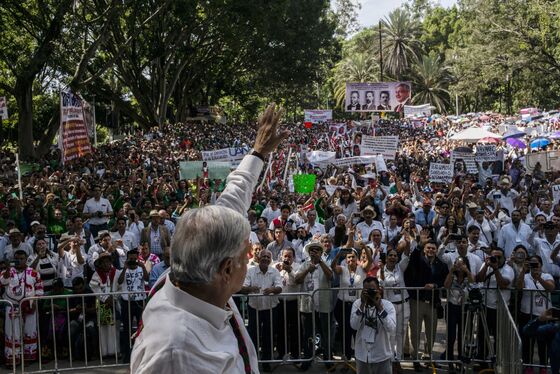 While Lopez Obrador in the past was a lukewarm supporter of the existing North American Free Trade Agreement, he recognizes the importance of the newly-unveiled trade deal to ensure economic and financial-market stability, a prerequisite for his other proposals. This week's breakthrough in negotiations and the plan for outgoing President Enrique Pena Nieto to sign the deal save Lopez Obrador from having to take full responsibility for the pact or negotiate with Trump immediately after taking office in December.
"Passing this hot potato to Pena Nieto was the best thing," for clearing up Lopez Obrador's agenda, said Alejandro Schtulmann, who runs the political-risk consultancy Empra in Mexico City. "For him, this is the best possible scenario -- that someone else did all this hard work already."
Lopez Obrador had previously criticized Nafta, which will be replaced by the United States-Mexico-Canada Agreement once approved by the legislatures of all three nations, for not doing enough to improve the lives of Mexican workers. Under the 1994 trade pact, Mexico's industrial output and exports have surged, without denting the poverty rate.
Still, Lopez Obrador struck a different tone Wednesday, telling reporters that the trade agreement reached Sunday is "a good deal." His remarks followed a phone call with Trump that he received while en route to the airport for a trip to Acapulco, a beach resort that has become of the most violent cities in the world.
"The U.S. economy is passing through a good economic moment, so having good economic relations helps Mexico," Lopez Obrador said. "It helps us to avoid financial instability, that we don't have a weaker peso, that we can have economic growth based on the favorable circumstances abroad."
Lopez Obrador said he and Trump spoke about making shared investments in Central America to spur development and jobs and reduce pressure for people to immigrate to the U.S. Many migrants head north to flee the gang violence that plagues the region. The incoming president's top domestic priorities also include reviving Mexico's oil industry and boosting economic growth in the impoverished south, including his home state of Tabasco, through infrastructure projects.
Despite the fact the trade agreement was reached before Lopez Obrador takes office, his Morena party will still have responsibility for its legislative approval. The Senate, where Morena and allied parties have a majority, will need to ratify the agreement.