Mexico Seen Hiking Interest Rate After AMLO Spurs Peso Plunge
(Bloomberg) -- Mexico's central bank will raise its key interest rate Thursday after President-elect Andres Manuel Lopez Obrador's decision to cancel a $13 billion airport sent the peso plunging and raised concerns about policy uncertainty, according to a survey of economists.
Policy makers led by Governor Alejandro Diaz de Leon are projected to lift borrowing costs, already at the highest level in almost a decade, another quarter point to 8 percent, according to the median estimate in a Bloomberg survey. Twenty-one economists see policy makers raising the rate, with six projecting it to remain unchanged.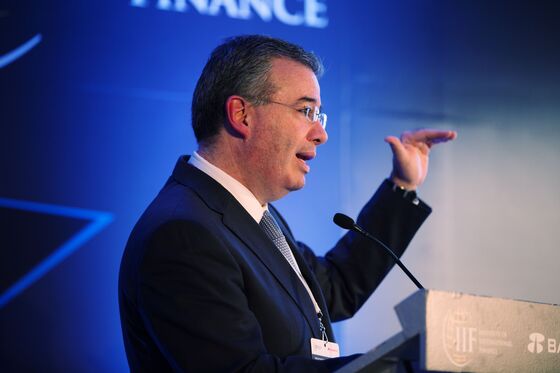 Analysts began to forecast an increase two weeks ago after AMLO, as the leftist is known, said he would cancel construction of the new Mexico City airport already one third complete, spurring the biggest sell-off in the nation's assets since 2016. While the central bank kept the rate unchanged last month, the board warned that it will take the actions needed to ensure its price goal is reached, and one of the five members voted for a hike.
"While until recently we had believed domestic conditions were sufficiently benign to allow for rates stability into next year, the weakening currency and the worsening balance of risks for inflation in recent weeks now seem likely to warrant a hike," analysts at Nomura Holdings Inc. including Joao Pedro Ribeiro wrote in a research report.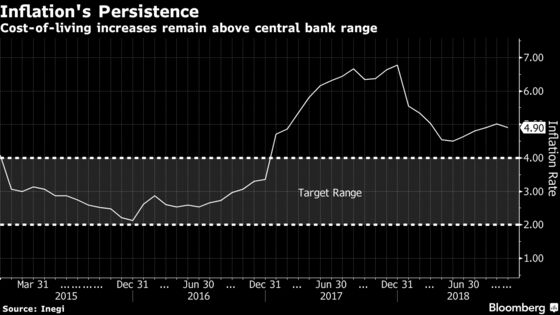 Board member Manuel Ramos Francia voted for a quarter-point increase last month when his colleagues decided to keep borrowing costs on hold. He argued that persistence in core inflation, which excludes food and energy prices, makes it unlikely that the current forecast for headline inflation will be attained. Furthermore, failing to react could hurt the monetary authority's credibility, he said.
The central bank forecasts inflation to slow toward their 3 percent goal during the rest of this year and next, reaching that level in the first half of 2020. Inflation will be 4 percent in 2019, according to the median estimate of 30 analysts surveyed by Bloomberg. Annual inflation climbed for four straight months to reach 5 percent in September and remained near that level in October.
The peso has tumbled 5 percent since Lopez Obrador announced the airport cancellation on Oct. 29, the most among major currencies, falling to weaker than 20 per dollar. The nation's 10-year sovereign dollar bonds dropped to a seven-year low and the benchmark stock index tumbled to the lowest since early 2016 after lawmakers from his Morena party proposed eliminating some bank fees and Lopez Obrador announced more referendums, including on construction of a refinery and a tourist train for the nation's south.
Interest-rate swap traders also see rate increases as likely, with the current implied probabilities showing 79 percent odds of quarter-point increases to 8 percent today and 63 percent chance of an increase to 8.25 percent in December.