Mexican Airport Bonds Jump as Government Sweetens Buyback Offer
(Bloomberg) -- Bonds issued to fund a canceled $13 billion international airport in Mexico City jumped Wednesday after the government improved a buyback offer, a sign that it wants to resolve the dispute.
The improved offer, capped at $1.8 billion of $6 billion outstanding, includes a buyback price of par plus accrued and unpaid interest. There's also a consent payment for investors who enter the deal before Dec. 19, Mexico's Finance Ministry said in a statement late Tuesday. That came after a group of creditors claiming to hold more than half of the notes rejected an initial proposal, balking at stipulations that holders must consent to allowing the project's cancellation and diverting revenue for the bonds to the city's existing airport.
Notes due in 2047 jumped as much as 9 cents on the dollar to trade at 93 cents apiece, while the Mexican peso climbed.
"It's a pretty good offer," said Guido Chamorro, senior investment manager at Pictet Asset Management Ltd in London. "In a year to forget like 2018, this is a nice early Christmas gift from Santa."
After upending market confidence by shelving the ambitious airport following a public consultation, President Andres Manuel Lopez Obrador is trying to mend some of the damage by sweetening the offer and vowing to protect all investments in the project. The government is treading lightly with its comments and actions in order to avoid violating any terms of the notes which could risk an acceleration of the debt, prompting full payment immediately.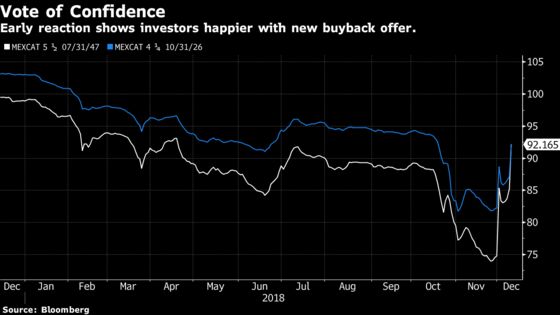 "The Ministry of Finance and Public Credit believes that these changes are in the best interests of holders, and that they address the concerns raised by holders to the fullest extent possible," according to a press statement. Deputy Finance Minister Arturo Herrera later told Radio Formula that the remaining $4.2 billion in debt will be honored with revenues from the airport system's use tariffs.
The new offer also adds additional protections for holders including limits on competing airport projects, lower rates of passenger charges at the current Mexico City airport and limitations on new debt issuance by the trust. The final deadline to enter into the tender offer will be Jan. 4.
"It shows us that we can sit at the table and our voices are being heard," said Jean-Dominique Butikofer, head of emerging-market fixed income at Voya Investment Management, who declined to say if he'd participate in the amended offer. "This improvement is a baby step in the right direction in the relationship between AMLO's new administration and international investors."