Mexico Leaves Key Rate Unchanged After Agreement on Trade Deal
(Bloomberg) -- Mexico's central bank kept its key rate unchanged, saying that while it expects faster inflation to be transitory, the board will take the necessary actions to ensure its goal for prices is reached.
Policy makers at Banco de Mexico, led by Governor Alejandro Diaz de Leon, kept borrowing rates at 7.75 percent on Thursday, the highest in almost 10 years, as forecast by 26 of 28 economist surveyed by Bloomberg. Two economists expected a quarter-point hike. One board member dissented, voting the increase, according to the statement accompanying the decision.
While the trade deal struck Sunday with the U.S. and Canada reduces the downside risks to Mexico's economy at the margin and could have a favorable impact on the peso and markets, Mexico faces a complex environment characterized by the risk of tighter external financial conditions, policy makers said. The central bank already has more than doubled the interest rate in the past three years.
Going forward, they will watch the peso's pass-through to prices, Mexico's monetary policy stance relative to the Federal Reserve and the degree of slack in the economy, standing ready to maintain or strengthen its monetary policy stance to slow inflation to the 3 percent goal, the board said.
"The combination of a split vote, with one member voting for a 25 basis-point hike, together with a language that leaves the door open to act again in the near future, or at the least maintain the current stance of monetary policy, imprints a more hawkish tone to this communique," said Alvaro Mollica, a macro strategist at XP Investments in New York and the current top forecaster for Mexico's overnight rate.
The peso maintained its loss following the decision, weakening 0.4 percent to 19.1232 in afternoon trading.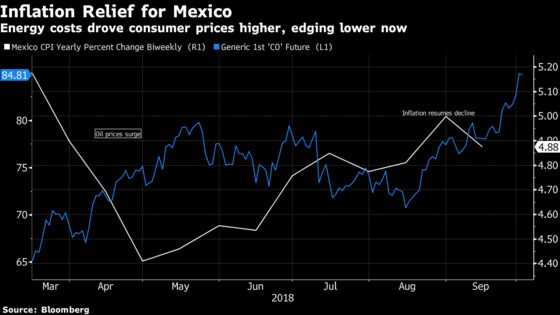 Annual inflation in the first half of September was lower than economists predicted, at 4.88 percent, resuming a decline toward the 3 percent target rate. Though consumer prices rose more than expected in recent months, policymakers held the rate at their previous meeting in August, saying they expected a recent uptick in inflation to be "transitory" before resuming a process of deceleration. Annual inflation has declined from a 16-year high reached in December.
The resolution of trade tensions over the North American Free Trade Agreement permits Banxico to decouple from U.S. monetary policy, ING Financial Markets LLC chief Latin America economist Gustavo Rangel wrote in a note this week before the decision. Rangel said trade certainty would improve the longer-term risk profile for Mexico inflation and that a "hawkish hold" would be likely given the limited space for rate cuts.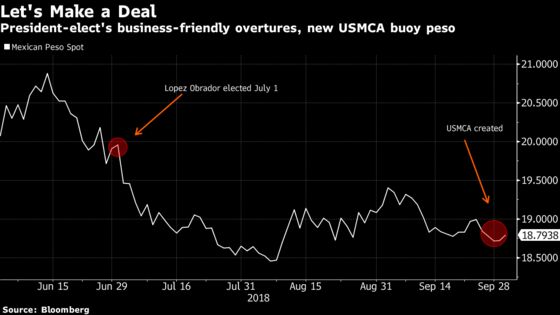 The peso is the best performer among 16 major world currencies since Andres Manuel Lopez Obrador won Mexico's July 1 election, gaining 4.4 percent against the U.S. dollar, easing concern about exchange rate pass-through pressuring inflation.
Banxico's next move is likely to come in the second quarter of next year, when policymakers will cut for the first time since 2014, based on the average projection of 11 economists surveyed by Bloomberg.
Political and policy risks have abated and additional rate hikes do not seem necessary, but lingering uncertainty and tighter external financial conditions are constraints, Felipe Hernandez, Latin American economist for Bloomberg, wrote in a note late last week.
"Inflation has peaked, but remains above the target and, together with evidence of little slack in the economy, does not argue for lower interest rates," Hernandez wrote.
Private economist Jonathan Heath confirmed reports last week that Lopez Obrador, who takes office Dec. 1, plans to tap him as the nominee for an upcoming opening on the central bank board, replacing deputy governor Manuel Ramos Francia, whose term finishes at year end. Heath's nomination would need to be approved by the Senate, where Lopez Obrador's Morena party leads a coalition that holds a majority of seats. Heath told Bloomberg last week that the choice "definitely confirms AMLO's intention of respecting Banxico's autonomy."