Mexico Delivers Second Straight Rate Hike on High Inflation
Mexico's central bank raised borrowing costs for the second consecutive meeting Thursday, as stubbornly elevated and above-target consumer price increases are pushing inflation expectations higher for this year and next.
Banco de Mexico boosted its key interest rate by a quarter-point to 4.5% in a split decision by its board after a surprise hike in June that did little to tame inflation, currently running at almost double the bank's target. All 22 economists surveyed by Bloomberg predicted the increase.
Although inflation shocks "are expected to be transitory, due to their variety, magnitude, and the extended horizon over which they have affected it, they may pose risks to the price formation process," the board wrote in a statement accompanying the decision.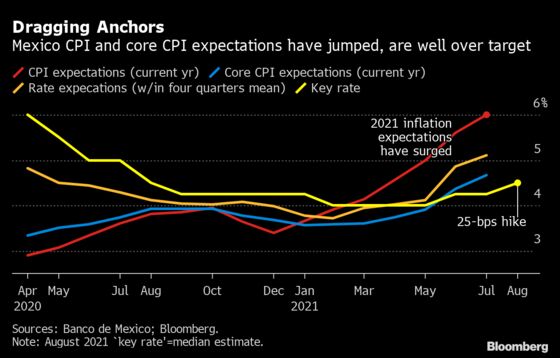 The peso reversed gains and TIIE swap rates climbed across the curve after the announcement by Banxico, as the central bank is known.
The bank now expects annual inflation to end the year at 5.7%, compared to a 4.8% forecast in June. Price growth will be at 3.4% by the end of 2022, before slowing to 3.1% in the first two quarters of 2023, Banxico said. Prices have been driven up by supply shocks, food and energy inflation and recovering domestic demand.
"Banxico's new forecasts do not converge to 3% in the forecasting horizon, which anticipates further hikes," said Carlos Capistran, an economist at Bank of America Corp. "We expect Banxico to hike three more times this year, 25 basis points each, to put the rate at 5.25% by year end."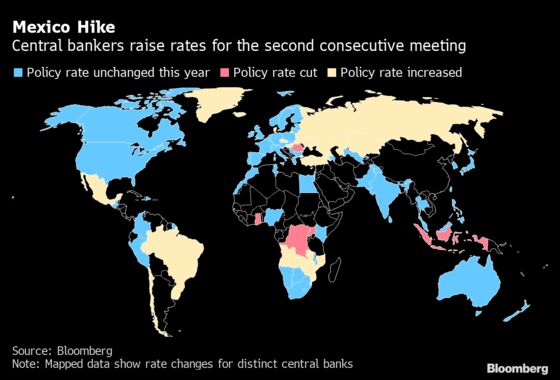 The market also points to at least 75bps in further hikes before year-end. The pace is expected to slow next year, with about 80bps tightening priced for eight meetings.
Mexico's economy is quickly rebounding so far in 2021 after shrinking 8.2% last year, the most in almost a century. The recovery, with GDP seen growing 6.2% by economists surveyed by Citibanamex, is adding to inflationary pressures and helped lead the central bank to start tightening its monetary policy earlier than expected by most analysts.
The second straight split decision shows rifts in a board, which is soon to have a shake-up. Banxico has three more rate decisions scheduled before Governor Alejandro Diaz de Leon ends his term at the end of the year. President Andres Manuel Lopez Obrador has nominated his former Finance Minister Arturo Herrera to replace him, a change that many economists think could make the board more tolerant of inflation.
What Bloomberg Economics Says

"Revised inflation forecasts paint a significantly more worrisome outlook for Mexico and point to the central bank further increasing interest rates after its latest hike on Thursday. Differences within the board appear to run deep. They increase the focus on Governor Alejandro Diaz de Leon's departure at year-end and the potential impact on the monetary policy outlook." 

-- Felipe Hernandez, Latin America economist

Click here for the full report.
Deputy governors Galia Borja and Gerardo Esquivel voted against the hike, in line with their calls in June, according to Thursday's statement.
"When Arturo Herrera joins there will be three members voting to hold interest rates despite inflationary pressures continuing," said Gabriela Siller, director of economic analysis at Grupo Financiero BASE
Inflation has recently accelerated in emerging markets from India to Russia, as companies pass on higher commodity prices to consumers, and demand picks up before supply chains are fully recovered from the pandemic. Brazil and Chile are also tightening their monetary policy and Peruvian policy makers meeting later Thursday will consider their first rate increase in five years. Colombia's central bank indicated that it may soon join the regional tightening trend.
Mexico's inflation stood at 5.8% in July, slowing only slightly from 6.1% in April. Banxico targets price gains at 3%, plus or minus 1 percentage point.
Against that backdrop, Economy Minister Tatiana Clouthier said Wednesday that the third wave of the pandemic could affect growth. Yet Nikhil Sanghani, a Latin America economist at Capital Economics, said that threat would have to damage expectations in a significant way for the central bank to change course.
"It's still a bit too early to say that this latest virus wave has derailed Mexico's economic recovery. It's more a bump in the road at this stage," Sanghani said.