Mexico Cuts Key Rate After Unscheduled Central Bank Meeting
(Bloomberg) -- Mexico's central bank ditched its usual caution and joined a wave of emergency interest rate cuts across the world as risks grow of a devastating recession.
The bank cut its policy rate by half a percentage point to 6.5% on Friday in its first unscheduled decision in four years. It also announced emergency liquidity measures, including dollar auctions, to shore up the battered peso.
Banxico had a board meeting scheduled for March 26 but decided to bring it forward, with financial markets in turmoil and economic activity freezing as people shut themselves in their homes for fear of contagion. One board member voted for a smaller, quarter-point cut.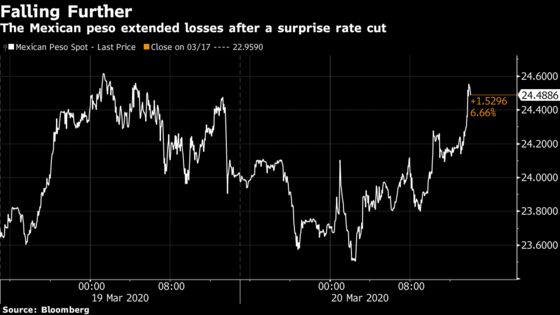 Mexico joins a wave of monetary stimulus as policy makers in every continent try to shield their economies from a global downturn. Peru cut borrowing costs in a surprise move Thursday, while Brazil cut its benchmark rate to a record low on Wednesday.
"Global and domestic financial markets have been subject to high volatility over the last weeks due to the uncertainty regarding the impact of COVID-19 on world economic activity, and to the recent fall in international oil prices," the bank said in its statement. "In this context, foreign exchange and fixed income markets in Mexico have undergone significant adjustments, lower liquidity, and a deterioration of trading conditions."
The bank also said it would implement additional liquidity measures such as reducing banks' deposit requirements at the central bank, and offering dollar auctions which will be financed by a swap line with the Federal Reserve.
MEXICO REACT: Surprise Rate Cut Boosts Expectations for More
The peso, the world's worst-performing major currency in the past month, extended losses and headed to a record low close after the surprise move.
"Banxico should continue cutting. The shock to the economy could be sizeable," said Marco Oviedo, an economist at Barclays.
This is the first unscheduled move by Banxico since early 2016, when they raised rates as an oil price rout hammered the peso. Benito Berber at Natixis, said he forecasts further rate cuts this year that could take the policy rate as low as 4.5%.
"The economy will soon be in recession," he said. "Authorities have not implemented measures of social distancing yet. When they do, demand will collapse."
Banixco also reduced the Monetary Regulation Deposit -- 320 billion pesos that commercial and development banks are required to hold at the central bank on a permanent basis -- by 50 billion pesos.
At the same time, Ordinary Additional Liquidity Facility costs were lowered to 1.1 times the overnight rate from as much as 2.2 times previously.
Separately, the central bank plans to conduct dollar auctions to allow increased dollar financing, and will also strengthen an existing Market Makers Program in collaboration with the Finance Ministry. The program is intended to increase debt placements, provide liquidity and facilitate market price discovery.