With Mexico Airport Bonds at 80 Cents, Adviser Warns of Default
(Bloomberg) -- Mexico City's airport bonds finally showed signs of stabilizing Wednesday after President Andres Manuel Lopez Obrador caught investors by surprise with his decision to scrap the controversial project. Still, at just 80 cents on the dollar now, the bonds have had a rough October.
Prices on the 30-year debt are down 3 cents this week and 9 cents this month, a slump that pushed the yield up over 7 percent. To make matters worse, an adviser who helped arrange the offering -- which was part of $6 billion of notes sold over two years -- is now warning that the cancellation could be "disastrous" for creditors despite assurances from some members of Lopez Obrador's team that the debts will be repaid in full.
Michael Fitzgerald, a lawyer with New York-based Paul Hastings who was part of the team of legal advisers for the underwriters, said a cancellation of the $13 billion project could create a default leading to a mandatory redemption on all bonds outstanding. The problem is that without completing the project, the airport group may not take in enough revenue to meet the accelerated payment schedule.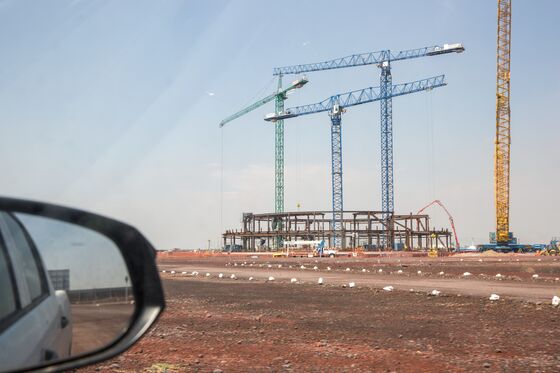 A $1.6 billion security known as Fibra E -- a hybrid between a master-limited partnership and a real estate investment trust -- may be hard hit as well, according to Fitzgerald. While the security has a stipulated interest rate like a bond, it is a hybrid asset with an equity component that would see its value drastically slashed if there is no new airport to support the equity valuation, he said.
"The cancellation of the new airport will likely have a disastrous effect on the value of the bonds and Fibra E instruments," Fitzgerald said. "None of the investors in the new airport counted on this cancellation."
While AMLO, as the radical leftist is known, had stated during the campaign that he would look to cancel the project because it was ostentatious, corrupt and unnecessary, the announcement Monday that he'll scrap it upon taking office next month shocked investors. They expected a more measured approach to a public project years in the works.
Other Mexican assets followed the airport's bonds lower this week: The peso has plunged 5 percent the stock market 4 percent. And Fitch on Wednesday lowered Mexico's credit rating outlook to negative from stable.
The incoming government has given mixed messages on how it will deal with airport creditors.
Julio Scherer, who was tapped as Lopez Obrador's chief counsel, said in an interview with El Financiero Bloomberg TV that the incoming government would enter into negotiations with bondholders and that the schedule for bond payouts is yet to be determined. Scherer said that not all bonds will have to be paid back in 2019. Meanwhile, incoming Finance Minister Carlos Urzua said that the country's budget next year will have the money to meet all obligations to contractors and investors. Those obligations will include the possibility of paying the principal in full, Lopez Obrador's spokesman Jesus Ramirez said today in an interview.
"All rightful claims of contractors and investors will be fully met," Urzua said in an emailed statement.
A representative for the Mexico City airport group didn't respond to a request for comment.