Mexican Stocks Hit Lowest Since 2015 as AMLO Fears Resurface
(Bloomberg) -- Mexican stocks tumbled to a three-year low, led by financial companies, as concern resurfaced that the incoming administration plans to scrap some bank commissions.
Mexico's Antitrust Issues Recommendations on Bank Fees Proposal
Banco del Bajio's 11 percent skid led losses after Mexico's antitrust agency, Cofece, recommended the Senate ask the central bank to conduct a case-by-case analysis of proposed modifications. Grupo Financiero Banorte and Banco Santander Mexico slumped at least 7.7 percent. The benchmark Mexbol dropped to the lowest since August 2015.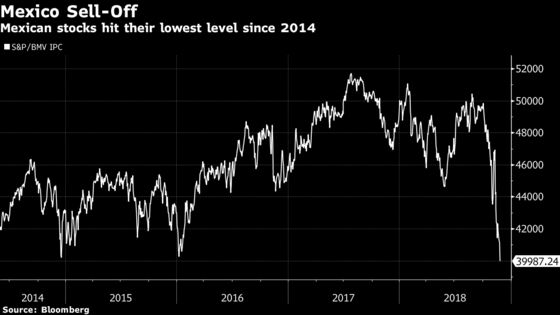 It's been a rocky month for Mexican financial stocks. President-elect Andres Manuel Lopez Obrador's political party, Morena, rattled investors on Nov. 8, when it introduced the bank plan just two weeks after the new leader canceled a $13 billion airport. While Lopez Obrador tried to walk back the bank fee plan a day later, Morena has kept it alive. The losses today came with the release of Cofece's Nov. 21 letter to the Senate asking for further study on the issue.
"Banks have certainly been a concern for investors because of concerns about the potential for increased government regulation that could crimp profits," said Morgan Harting, a senior portfolio manager at AllianceBernstein in New York. "More broadly, I think the Mexican market remains under pressure amid political uncertainty and a sluggish economic setting."
Citigroup Inc. strategists said in a note that they remained concerned about the quality of policy-making in Mexico. Still, the bank maintained its Mexico rating unchanged at market weight, with analysts saying that the valuation doesn't justify a more negative stance.