Mexican Peso's Rare April Rally May Herald Selloff Amid Warnings
(Bloomberg) -- The Mexican peso's world-beating April streak may be about to evaporate.
JPMorgan Chase & Co. moved the currency to its underweight category last week, despite an overall neutral stance on Latin American peers, citing crowded bets on peso gains, unattractive valuations and bond-market outflows. In addition, oil prices that helped support the peso last month are likely to plateau, say Bulltick LLC strategists Kathryn Rooney Vera and Gregan Anderson.
Another warning sign comes from debt markets, where foreign investors are selling their holdings of peso-denominated government bonds at the fastest pace since late last year, when President Andres Manuel Lopez Obrador took office.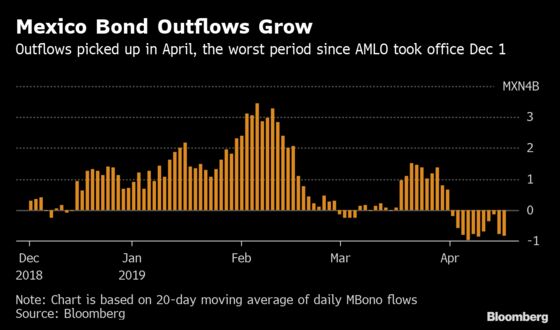 The peso held up so far this year, even amid lackluster economic growth, as political risks faded and the government insists it won't water down this year's budget target to stimulate growth. Mexico's high carry also helped serve as a cushion.
The question is how long it can keep that up. The peso will probably end the second quarter down 1.8 percent, at 19.25 to the dollar, according to the average forecast tracked by Bloomberg. Bulltick's fair-value model puts the currency at 19.50 per dollar, about 3 percent weaker than current spot levels.
The dollar may also play a big part. The Bloomberg Dollar Spot Index strengthened in eight of the last 10 years in May, making it the strongest month. The peso typically drops by 1.8 percent in May, based on data between 2010 and 2018. Brazil's real declined every one of those months for the past decade.