Mexican Assets Tank as Lopez Obrador Cancels Planned Airport
(Bloomberg) -- Mexico's peso and 10-year dollar sovereign bonds fell to four-month lows after incoming president Andres Manuel Lopez Obrador canceled a $13 billion airport project for the capital, even though a third of it had already been built. The country's stocks also declined, hitting their lowest point since February 2016.
AMLO, as the president-elect is known, ditched the project after almost 70 percent of 1.07 million people who participated in a national referendum voted against the airport, among the nation's biggest infrastructure projects.
"Markets are voting with their feet," said Greg Lesko, a money manager at Deltec Asset Management in New York. There's "no positive read through on this. AMLO used a phony referendum to get what he wanted."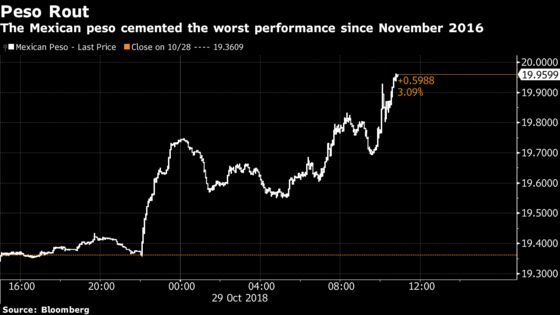 While the incoming president said there were funds available to protect investors in $6 billion of airport bonds, the bigger concern is the impact on investor confidence. Since winning the election on July 1, AMLO had taken a more market-friendly approach than many had expected. BBVA analysts said in a note today, that the poll results and ensuing peso volatility may lead to more hawkish central bank policies.
Asset prices fell across the board. The benchmark stock index slid 3.65 percent to 44,130, while spreads on Mexican five-year credit-default swaps widened to the most since June 21.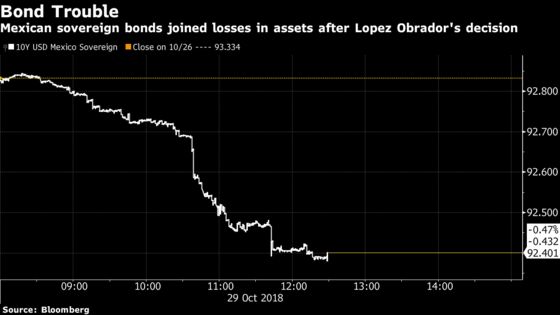 Lopez Obrador said that an alternative project -- adding two new runways to an existing airport in Santa Lucia -- would save the government as much as 100 billion pesos ($5 billion). Yet, according to BBVA, the cost of canceling the new airport could be as much as $10.5 billion.
The project is already 32 percent completed, according to an estimate by Enrique Pena Nieto's administration in September, and much of the money for its completion has been raised.