U.K. Lawmaker Raises Concerns About Metro Bank Revelations
(Bloomberg) -- A senior lawmaker is closely monitoring Metro Bank Plc after its admission that the Bank of England had discovered issues with the way it classified loans, contradicting previous statements from the lender.
"The events at Metro Bank are concerning," Nicky Morgan, who chairs the committee and has oversight of the U.K.'s central bank, said in a statement to Bloomberg. "The Treasury Committee will keep a close eye on developments, and may choose to raise it with the Prudential Regulation Authority."
The PRA is responsible for overseeing British banks and is run out of the Bank of England. Its senior officials are often required to give evidence to U.K. lawmakers, who can question them on the PRA's activities.
Metro Bank fell as much as 13 percent in London trading and closed 11.1 percent lower after the British bank said the PRA had first found problems with the way it classified the risk on parts of its loan portfolio, not the company.
"Ongoing supervision by the PRA helped to identify potential inconsistencies in certain loans which were raised with the bank," it said in the statement Thursday. Metro Bank "then undertook a comprehensive review, in order to establish the full picture before our year end, which identified the need to make adjustments in our risk-weighting of some commercial and specialist buy-to-let loans."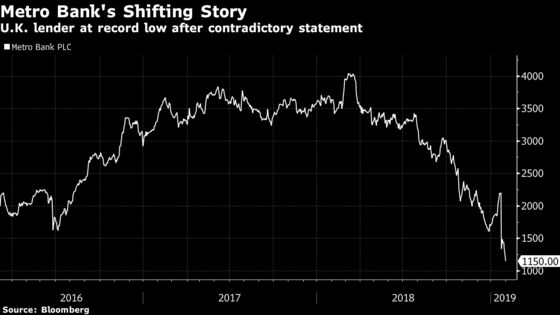 In a trading update last week ahead of the full-year results, the bank said it had increased its risk-weighted assets by 900 million pounds ($1.2 billion) to 8.9 billion pounds after it found that it had placed commercial real estate, and some buy-to-let loans, in the wrong risk buckets. Metro shares are down about 24 percent this week, having fallen 39 percent last week on the day of the trading update.
Fidelity Investments, Metro's second largest shareholder, on Thursday became the first major investor to report a reduction in its stake since the disclosure of the problems. Fidelity cut its holding from 8.53 percent to 7.9 percent on Wednesday, according to a U.K. stock market filing.
Speaking to analysts last week, Metro Bank Chief Executive Officer Craig Donaldson said the errors with the risk weights had been identified as part of its end-of-year review. Chief Financial Officer David Arden said that the bank's review was discussed with the PRA.
"There have been many reasons to question the credibility of management for a long time, the denial about the need for capital on a consistent basis being just one case in point," said John Cronin, financials analyst at Goodbody, the Dublin-based broker.
The Daily Mail newspaper first reported the news of the PRA's discovery of the Metro Bank risk weight problems. A spokeswoman for the PRA declined to comment.