Metro Bank Shares Plunge After Some Customers Yank Deposits
(Bloomberg) -- Metro Bank Plc shares plunged after disclosing that some business customers pulled their deposits earlier this year, when the British lender revealed a misclassification of mortgages and a regulatory probe.
The stock, down by more than half this year, tumbled 15 percent in London on Thursday, shrinking its market capitalization to 643 million pounds ($840 million). The firm's 10-year bonds also fell, according to data compiled by Bloomberg.
The lender blamed "adverse sentiment" for prompting the withdrawals, which came from a "small number of commercial and partnership customers" in January and February. That resulted in a 3.6 percent quarter-on-quarter deposit reduction. Deposits stabilized in March and returned to growth last month, the London-based bank said as it reported first-quarter results.
The bank also said Wednesday that its net interest margin shrank to 1.64 percent from 1.76 percent in the previous quarter. Metro Bank, which is backed by U.S. entrepreneur Vernon Hill, was thrown into crisis earlier this year after regulators discovered the firm's risk weightings were too low on some of its mortgages.
It "has published what can only be characterized as a truly horrible set of numbers," Goodbody analysts including John Cronin said Wednesday evening, calling the deposit shrinkage "very worrying." In a fresh note Thursday, Goodbody said it anticipated cutting its share-price target, and said further "material downgrades are in train."
Read more: Hill's Wealthy Backers Ponder Keeping Faith in Metro Bank
The misclassification means Metro Bank must put more capital behind its existing positions. To do so, the lender previously announced plans for a share sale of 350 million pounds.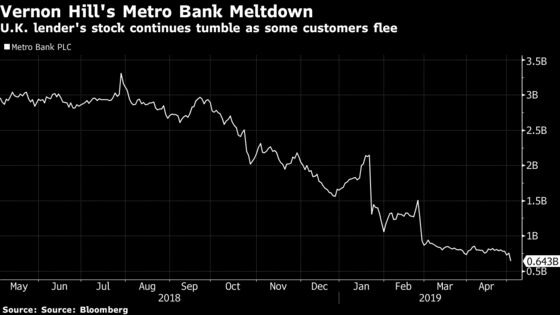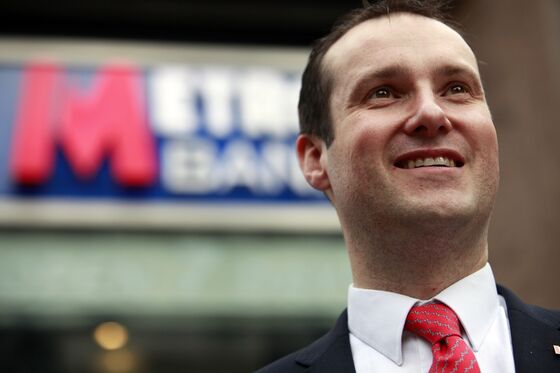 "It's on time and it's in process," Craig Donaldson, the bank's chief executive officer, said of that fundraising in a phone interview. He expects it to be done before this quarter is over. The CEO said he had no update on probes by the U.K. Financial Conduct Authority and Prudential Regulation Authority, which are looking into the asset misclassification.
First-quarter pretax profit fell 50 percent from a year earlier to 4.3 million pounds. The bank's common equity Tier 1 ratio, a measure of financial strength, stood at 12.1 percent, down from 13.1 percent at the end of last year.
Proxy adviser Glass Lewis has said investors should reject Hill as chairman at Metro Bank's annual meeting on May 21 and push the bank to hire an independent chair. Hill founded the lender in 2010, and his wife is paid to design the firm's branches.
"We had some tough events to deal with," Hill said on a conference call. "We have to learn from them and make our company better."
Willett Advisors LLC, the investment arm for the personal and philanthropic assets of Michael Bloomberg, held a 2.7 percent stake in Metro Bank as of July 2018. Representatives for Bloomberg declined to comment on the stake. Bloomberg is the founder and majority owner of Bloomberg LP, the parent of Bloomberg News.