Metro Bank Shares Plunge to Record Low as Regulators Circle
(Bloomberg) -- Want the lowdown on European markets? In your inbox before the open, every day. Sign up here.
Metro Bank Plc, the lender founded by U.S. entrepreneur Vernon Hill, plunged to a record low after it disclosed that British regulators are probing how it misclassified assets.
Shares in Metro Bank tumbled almost 27 percent to 955 pence on Wednesday, the lowest closing price since the London-based lender first sold stock to the public in 2016.
Metro is also preparing a 350-million-pound ($464 million) share sale to shore up its balance sheet, and plans to sell about 500 million pounds of bonds later this year to help ease capital concerns, Chief Executive Officer Craig Donaldson said.
The U.K. Financial Conduct Authority and Prudential Regulation Authority will "investigate the circumstances and events" that led it to adjust its risk-weighted assets last month, the bank said. Since Metro's share sale was revealed Tuesday, the bank has lost about 38 percent of its market value.
"It has been a very chastening experience for us," Donaldson said in an interview. "The buck stops with me. I did offer to resign, but the board have supported me. It was decided it was right that I should not get any bonus for 2018."
In January, Metro Bank said it mistakenly applied a risk weighting that was too low on some of its mortgages, resulting in the need to put more capital behind its existing positions. The incident prompted some analysts to question the future of management.
The investigation "means that heads could roll," John Cronin, an analyst with Dublin-based Goodbody, said in an email. "It's very hard to be in any way positive on this bank, and I remain of the view that fundamental value is materially divorced from market value."
Spokespeople for the FCA and the PRA declined to comment.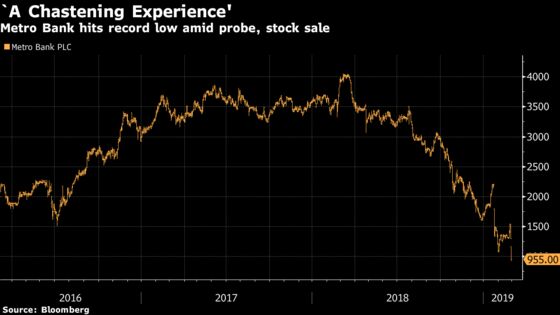 On Tuesday, Metro Bank also said it would have to slow down a growth plan that had seen it dot southeastern England with new branches while the U.K.'s incumbent lenders were closing them. Additionally, Michael Snyder, a member of the lender's board, will replace Ben Gunn as senior independent director and become chair of its audit committee, while the bank is also continuing a search for another independent non-executive director.
Metro Bank hired RBC Capital Markets, Jefferies and KBW for the stock sale, which is expected in the first half of this year after "consultation with shareholders," according to a previous statement in late trading Tuesday. The underwriters are aware of the regulatory probes, executives said on the conference call.
Metro Bank also announced:
It will moderate deposit growth to 20% and will reduce new branch openings to about 8 per year
Targeting cost-income ratio of 55%-60% in the medium term, down from 88% in 4Q 2018, through ''automation of back-office process and shared services''
It will ''rebalance lending mix'' around mortgages and SMEs
Metro now doesn't expect Advanced Internal Rating Based accreditation for residential mortgages before 2021. AIRB can allow a bank to put far less capital behind its mortgage portfolio.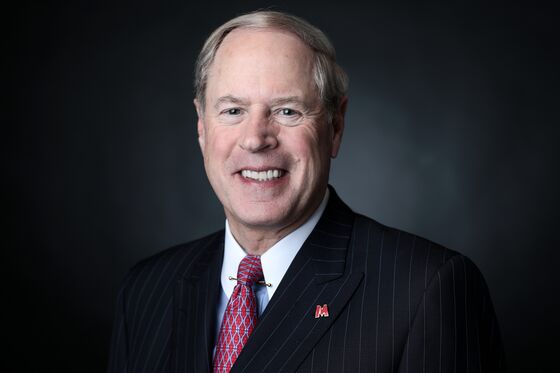 Metro was part of a generation of challenger banks that sprung up in Britain after the financial crisis, taking on the nation's four big established lenders. Led by Hill, its chairman, the bank advertises longer opening times and branches that are friendly to dogs, even providing water bowls. Its shares performed strongly after its 2016 initial public offering, doubling by March of last year, before tumbling as loan growth slowed.
Willett Advisors LLC, the investment arm for the personal and philanthropic assets of Michael Bloomberg, held a 2.7 percent stake in Metro Bank as of July 2018. Representatives for Bloomberg declined to comment on the stake. Bloomberg is the founder and majority owner of Bloomberg LP, the parent of Bloomberg News.