Merkel Faces Heat in Hesse Vote as Housing Anger Boils Over
(Bloomberg) -- Having spent most of their adult lives in Frankfurt, Rudolf and Gudrun Lang are facing up to the fact that they can no longer afford to live in Germany's financial capital.
The two pensioners blame the government for a lack of affordable housing that means there's little chance of finding a cheaper alternative to the apartment they've rented for years. Like thousands of other Frankfurters, they're preparing to give Chancellor Angela Merkel's Christian Democratic Union and coalition partner the Social Democrats a bloody nose in Sunday's state election in Hesse, where Germany's banking hub is the biggest city.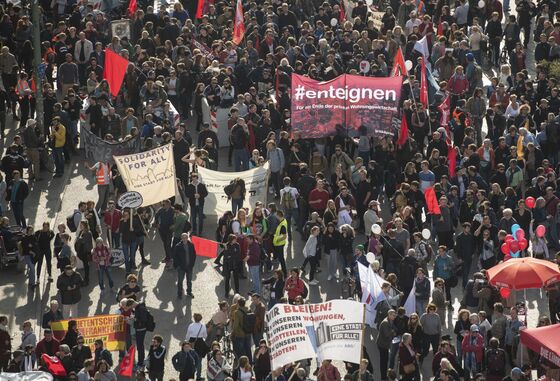 "We remember all the promises on housing from the CDU and SPD," Gudrun Lang, 70, said while marching alongside a cross-section of Frankfurt residents protesting against rising rents on an overcast Saturday afternoon. "They break them again and again," said Lang, who plans to vote for the anti-capitalist Left party.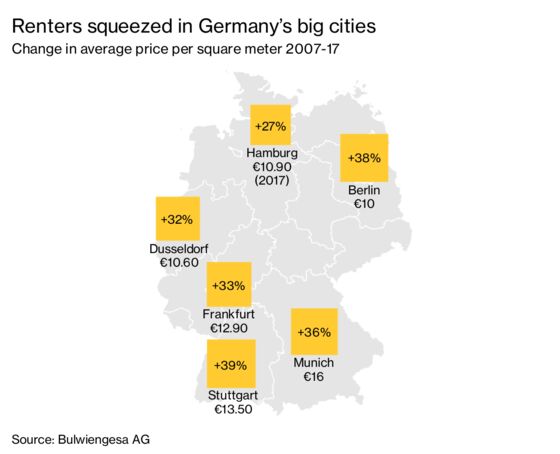 Affordable housing is front and center of the campaign -- one of the most important regional elections of Merkel's 13-year tenure. Last weekend, about 5,000 people, including the Langs, demonstrated in downtown Frankfurt to demand that authorities do more to curb rent increases. "Turn real estate sharks into fish sticks!" read one banner.
Six weeks before a convention where Merkel is expected to seek re-election as party leader following a series of setbacks since last year's federal vote, she appeared at a campaign rally in the Hessian city of Kassel, cautioning voters against "left-wing experiments." One of her campaign themes is that turning out for the CDU will help avoid a government that includes the anti-capitalist Left, which has called for aggressive rent controls.
Housing costs have been a recurring concern across Germany, with similar protests in Berlin and Hamburg in recent months. Merkel has tried to address the issue with a pledge to invest more than 6 billion euros ($7 billion) to build 1.5 million homes over the next four years. Policy initiatives include so-called "Baukindergeld," which offers mortgage subsidies for families.
But with German home ownership rates the lowest in the European Union, the efforts have fallen flat with voters. In Hesse, the latest poll from Infratest dimap shows support for the CDU falling to 26 percent -- the lowest level since 1966 -- from 38.3 percent in the last election. The SPD risks its worst result since World War II with backing down to 21 percent from 30.7 percent.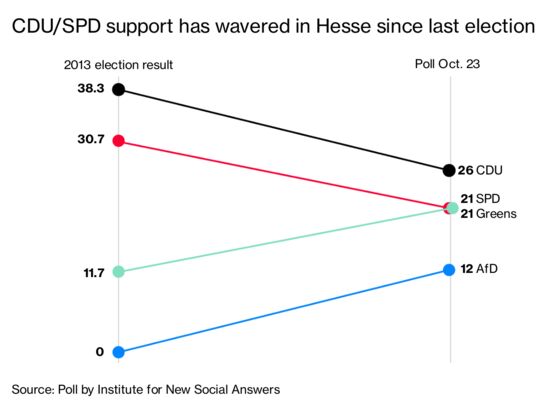 Merkel's fragile government is still reeling from a disastrous election two weeks ago in Bavaria, where the CDU's sister party -- the Christian Social Union -- dropped to a historic low as voters flocked to the Green party and the far-right Alternative for Germany, or AfD.
While Merkel's own party wasn't on the Bavarian ballot, she's got more at stake in Hesse, where the results will be a proxy on her "grand coalition" of Germany's two largest political blocs. Overall, the chancellor is scheduled to make three campaign stops in the state before Sunday's poll.
The lack of affordable housing has become hot-button issue across Germany. City planners failed to anticipate growth in urban populations, while complex building regulations drive up costs and stall development. Hesse's adoption of strict energy-savings guidelines have particularly hit affordable housing, according to Frankfurt architect Michael Schumacher.
"For residential buildings, walls typically need to be half a meter thick to conserve energy. Windows often need to be triple-glazed," Schumacher said. "You also need specialist engineers to build them, and there aren't many of those around."
With little new supply, home values have surged 79 percent across the country over the past decade, luring deep-pocketed foreign investors like Blackstone Group LP and Carlyle Group LP while average Germans get priced out of the market.
Hesse, home to the European Central Bank and financial titan Deutsche Bank AG, has seen particularly high demand for housing as its booming economy sucked in new workers. The trends are likely to intensify as Frankfurt seeks to lure bankers from London in the aftermath of the U.K.'s exit from the European Union.
But for many residents, wage gains aren't keeping pace with rent increases. That's created a scramble for public housing, with Frankfurt authorities receiving more than 9,500 applications for 1,700 affordable houses last year.
Back at the Frankfurt protest -- where one banner read: "We need a city in which we can all live, not just Brexit bankers!" -- residents are itching for change as the growing gap between winners and losers risks tearing at the country's social fabric. The Langs would like to downsize from their current three-bedroom apartment, but there's nothing for them in Frankfurt.
"We want to move" to a smaller place, said Rudolf, a 75-year-old former administrative worker for the city's public transport service. "But rents have risen so much that we can't afford to leave."