Merkel Bows to European Peers to Consider CO2 Neutrality by 2050
(Bloomberg) -- Chancellor Angela Merkel said Germany may bow to pressure from European peers including France and Sweden who recently called for concerted action to protect the climate and strive for net-neutral greenhouse gas emissions by 2050.
Divisions within Europe about the pace of cutting pollution reflect differences in how each nation get and use energy. Most of France's power comes from nuclear reactors, while Germany and Poland rely more on coal and must feed a wider number of industries that produce greenhouse gases.
Potentially throwing in its lot with EU states seeking net zero carbon dioxide emissions by 2050 would mark a turnaround for Germany, Europe's biggest emitter of CO2. The nation is struggling to meet current emissions targets and taking on more ambitious may require the adoption of radical and fresh approaches to curbing pollution such as carbon capture.
In a speech Tuesday at an international climate conference in Berlin, Merkel said she'll put to her Cabinet the proposals of an eight-member group of trade bloc nation's that seek more ambitious policy to cut emissions. The initiative was drawn up ahead of a European Union summit on May 9 in Sibiu, Romania.
The Cabinet will assess if it's possible to achieve net neutral emissions by 2050 with the help of carbon capture or natural "compensation" such as afforestation drives, said Merkel. "With the right answers, Germany will join the initiative -- it's something I'd like to do."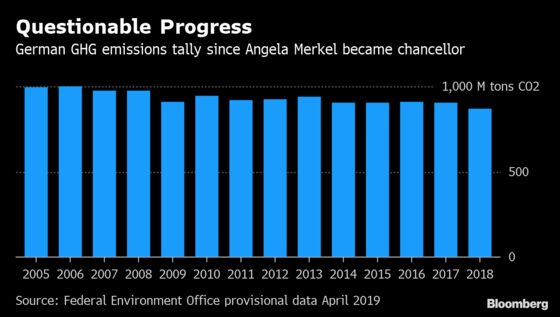 Germany, Italy and Poland all declined to back the French-led initiative earlier this month, according to a report of the Handelsblatt newspaper, citing unidentified officials in Brussels. The initiative's supporters, including Spain, Portugal, Luxembourg, Belgium and Denmark seek making climate action a cornerstone of EU policy to 2024, said the paper.
Merkel's administration dropped plans earlier this decade to support carbon capture amid voter protest. At its formation last year, her coalition agreed to consider limited CCS for industrial processes but declined to reconsider scaled-up plans to store poisonous emissions underground.
In line with its Paris Climate Accord pledges, Germany set itself the goal of reducing CO2 output by 2050 by 80% to 95% compared with 1990 levels. Targeting net neutral emissions by that year would imply orientation toward the upper end of the corridor.
Merkel said Germany has no choice but to double down on climate action.
"Something's changed in the last year," she told delegates of 35 states meeting ahead of this year's United Nations climate meeting in Chile.
"Children and young people are joining together and exerting pressure worldwide on politicians to do something and -- I will say explicitly -- their actions are understandable."