Merkel Bloc Quarrels Over Quarantine Ahead of Coronavirus Talks
(Bloomberg) -- A spat has broken out between senior officials in Chancellor Angela Merkel's conservative bloc over coronavirus rules for travelers arriving in Germany from areas designated as risky.
Health Minister Jens Spahn announced this week that arrivals from risk areas will have to enter a 14-day quarantine, which can be ended after five days if a negative test result is provided. Due to a lack of capacity, a requirement for people to be tested on arrival will be scrapped when the changes take effect some time after the middle of next month.
Further details will be discussed when Merkel holds talks with leaders from Germany's 16 states later on Thursday, as officials try to deal with an uptick in infections in Europe's biggest economy in recent weeks.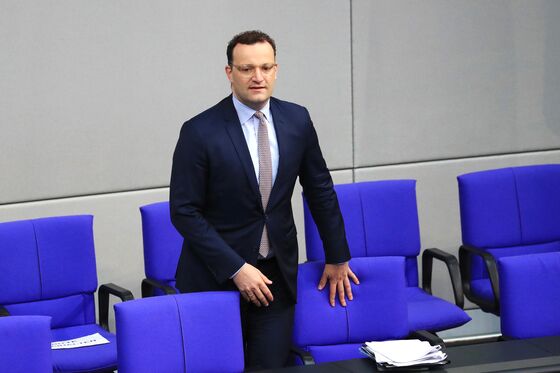 Ahead of the video conference, Bavaria Premier Markus Soeder said Spahn's decision had been "at the very least hasty" and questioned whether a quarantine strategy works in practice. Soeder is head of the CSU, the Bavarian sister party of Merkel and Spahn's CDU.
"It doesn't seem to have been thought through properly and we should discuss it further," Soeder said in an interview with ZDF television.
"If quarantine can work, we can change the system again," he added. "But I am of the opinion that the state should try to make what's available for citizens as comprehensive as possible, particularly on this question of vacation."
Travelers have been blamed for contributing to the recent increase in infections in Germany, along with social gatherings where people fail to respect hygiene and distancing rules.
The daily number of new cases rose back above 1,000 around the start of August, though it's still well below the peak of nearly 7,000 at the end of March and in early April.
There were 1,431 new cases in the 24 hours through Thursday morning, bringing the total to 239,010, according to data from Johns Hopkins University.
The reproduction factor -- the average number of people infected by one person with the virus -- fell to 0.85 on Wednesday from 0.90 the previous day, according to the latest estimate from the Robert Koch Institute.