Merger Plan Erases $2.8 Billion From India State-Run Lenders
(Bloomberg) -- India's plan to merge state-controlled lenders as a way to resolve its bad-debt issue didn't thrill investors.
The proposed union of Vijaya Bank and Dena Bank with Bank of Baroda fanned speculation of further consolidation in the sector. While some state-run lenders rose on Tuesday, most fell on concerns about eroding capital buffers and growing bad debt for buyers. Overall, the 22 banks listed on Indian stock exchanges lost about 203 billion rupees ($2.8 billion) of market value.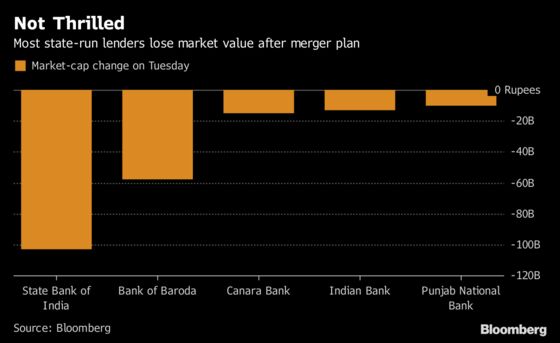 "The issue is: it will be a long, long time before anything happens, and a long path to work out the bad-loans issue," said David Smith, chief investment officer at Smith Tan Asset Management Pte. "The price response shows it's a boon for the weak and a new headache for those getting better."
Dena Bank, the weakest of the companies in the merger plan, jumped 20 percent on Tuesday, the most in more than a decade. Bank of Baroda sank 16 percent, the most since May 2004, while Vijaya Bank lost 5.8 percent. The NSE Nifty Bank Index, which State Bank of India is part of, closed at a two-month low.
Merger Antidote for Bad-Loan Mess to Weigh on Top Indian Lenders
With banking shares falling, hedging prices have also dropped. Protecting the lenders' gauge against further volatility has become the cheapest since January relative to the broader Nifty, data compiled by Bloomberg show.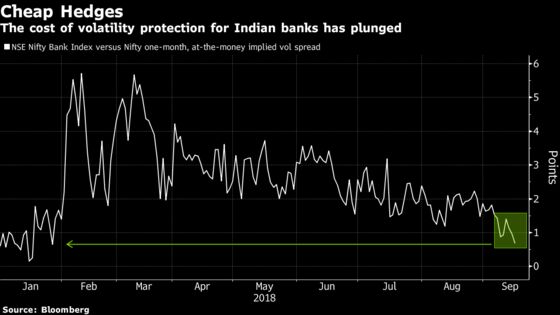 India has been seeking to clean up its banking system, with half of the firms in the public sector already in the central bank's intensive-care program. The nation's lenders have some of the highest bad-loan ratios in the world's 10 largest economies.