Merck Will No Longer Be 'Easy to Own' on Keytruda Dominance
(Bloomberg) -- Merck & Co.'s plan to spin off its women's health and biosimilar medicines units is sparking debate about its dependence on its top-selling drug among Wall Street analysts.
The move to shed assets will further increase the drugmaker's reliance on its blockbuster cancer medicine -- Keytruda -- and that's not sitting well with some. That strategy may fuel a bulls vs bears controversy as Keytruda faces off against lower-priced competition in China and trial results may challenge the medicine's supremacy in the U.S.
A once "easy to own" story introduces a "valuation debate into a well-owned stock," RBC analyst Randall Stanicky cautioned. "While perhaps unfair, we expect Keytruda concentration to become a bigger theme into competitor data that, while lower-risk, will add questions," he wrote to clients in a note.
Stanicky is one of four of the 20 analysts tracked by Bloomberg who remain neutral on Merck. He trimmed his share price target on the sector perform-rated company to $92 from $99. The company's stock has dropped over 3% since it announced the spinoff.
Even before Merck announced the new set up and ahead of Thursday night's earnings SVB Leerink analyst Daina Graybosch voiced her concerns about Keytruda drawing political scrutiny during an election year after it overtook Revlimid last year to be the world's top-selling cancer medicine. Bloomberg compiled sales estimates show Keytruda is on pace to overtake AbbVie Inc.'s Humira as the world's top-selling medicine in 2023.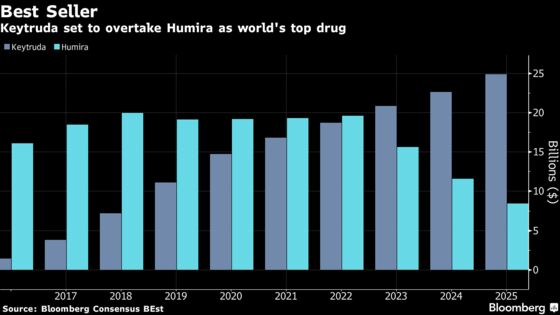 "Investors have been wary of companies that rely on a single-product," and Keytruda is set to become half of Merck's sales by 2027 or 2028, she wrote earlier today.
Competitive results -- like those from a kidney cancer drug combination from Bristol-Myers Squibb and Exelixis Inc. expected in the first quarter -- could hurt Keytruda's dominance if they are able to demonstrate more efficacy, she said. Despite potential Keytruda "roadblocks" Graybosch kept her outperform rating while trimming her share price forecast to $100 from $103 on reimbursement concerns outside the U.S.
Morgan Stanley's David Risinger remained bullish: "Although Keytruda faces competitive threats, we assume that Keytruda's efficacy bar remains difficult to beat. If there is a novel therapy that outperforms Keytruda some day, that regimen would likely carry additional toxicity...which would likely raise questions about its benefit-risk ratio."
Risinger took down his price target by $4 to $97. The current average price target of $99 implies Merck shares may advance 15% over the next year.