Merck's Blockbuster Cancer Treatment Powers Profit
(Bloomberg) -- Merck & Co.'s blockbuster Keytruda is dominating the cancer market, but investors want to know what the drugmaker plans for its next act.
Keytruda has become the primary source of Merck's growth. By 2020, analysts predict it will bring in more than $10 billion in sales annually. At the same time, though, investors are also keeping close tabs on sales of Merck's older drugs and asking whether the company could follow peers and shed its growing animal-health unit.
Shares of the Kenilworth, New Jersey-based company fell by as much as 2.6 percent in New York despite an upward adjustment in Merck's profit forecast. Even after Friday's slide, the stock has gained about 13 percent this year, outpacing the year-to-date gain of about 6.2% in the S&P 500.
Chief Executive Officer Ken Frazier said on a conference call with analysts on Friday that Merck is still looking to do deals or partner with other companies, but previous attempts haven't panned out because the target was unwilling or didn't agree on price. He said that biotech companies have increased access to capital and perhaps don't need to be bought or aren't interested.
"We'll continue to scour the landscape carefully," Frazier said.
Frazier said the animal-health unit remains part of Merck's overall strategy and makes the company more diversified. In recent months, companies such as Eli Lilly & Co. and Henry Schein Inc. have elected to spin off similar businesses. Frazier said the animal-health unit, where sales rose last quarter by 14 percent to $1.1 billion, is growing faster than its peers.
Read more: Merck's EPS beats Wall Street estimates.
Part of a new class of drugs that harness the body's immune system to attack tumors, Keytruda sold $1.67 billion in the quarter, an increase of nearly 90 percent from the same time a year ago and in line with analysts' estimates of $1.66 billion. Merck continues to see success with Keytruda in additional trials while adding indications in the U.S. and overseas. This week, China signed off on treating patients with advanced melanoma with the drug.
Earlier this year, Keytruda showed what analysts called practice-changing results when combined with chemotherapy. Some analysts expect the majority of previously untreated patients to be taking the drug by the end of 2018.
Between 60 percent and 65 percent of U.S. Keytruda sales are in lung cancer, while the majority of its sales outside the U.S. are also in lung cancer, Adam Schechter, president of the company's global human health division, said on the call. He added that 40 percent of the drug's sales are outside the U.S. but noted that the company hasn't even launched combination therapy outside the U.S. yet.
"We're very pleased with the performance of Keytruda," he said.
The Januvia and Janumet diabetes treatment franchise sold $1.54 billion last quarter, better than the $1.51 billion forecast by analysts. Vaccine Gardasil franchise sold $608 million, compared to analyst estimates of $593 million.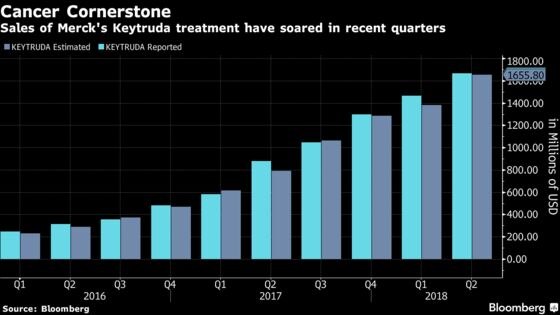 As several rivals promised not to raise drug prices this year amid criticism of the industry by President Donald Trump, Merck said this month it plans to lower some prices. Merck said it was cutting the price on hepatitis C treatment Zepatier by 60 percent, though that drug has struggled to take market share from expensive rivals. The drug brought in $113 million in the second quarter, down from $517 million a year ago.
Merck said its adjusted quarterly profit was $1.06 a share, compared with the $1.03 a share predicted by analysts. The company said in a statement that it now expects adjusted earnings per share of between $4.22 and $4.30, up from its previous guidance of $4.16 to $4.28.