Merck Plans $10 Billion Buyback as Cancer Drug Tops Views
(Bloomberg) -- Merck & Co. is buying back $10 billion of its stock and raising its dividend after beating Wall Street's third-quarter earnings forecast and raising its full-year guidance, a result that's likely to add to investors' bullish sentiments about the company.
Cancer drug Keytruda is Merck's top product and sold $1.89 billion in the third quarter -- up 80 percent from a year ago.
The drugmaker is betting on itself instead of on takeovers at the moment. Merck said plans to invest $16 billion on new capital projects through 2022, a 33 percent increase over what it said was its planned spending in February. It's also boosting its dividend by 15 percent.
Its plans to give back capital to shareholders and spend it inside the company mean any investors who've been waiting on Merck to use its cash to do a deal will likely be waiting awhile longer. The company's move follows a trend of big drugmakers giving more cash back to investors.
Chief Executive Officer Ken Frazier told investors not to rule out deals. "Even with these actions, we continue to have ample capacity for business development which remains a major priority," he said on a call with analysts.
While Merck's cancer drug gets much of the attention, other key products are performing well: HPV vaccine Gardasil's sales were up 55 percent from a year prior, and diabetes pills Januvia and Janumet brought in $1.49 billion.
The stock is up 25 percent this year as of Wednesday's close, while the S&P 500 index is down less than 1 percent after markets have given back their gains for the year in recent weeks. On Thursday, Merck's shares fell 2.5 percent to $68.77 as of 10:29 a.m. in New York.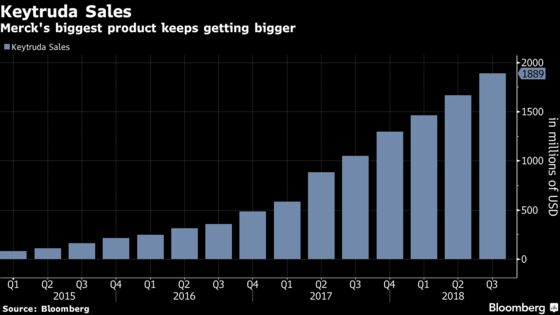 For a summary of the results, click here.
To read Merck's earnings press release, click here.