Mercedes Nears Luxury Title With Its Imported Top-Seller at Risk
(Bloomberg) -- Daimler AG's Mercedes is closing in on a third consecutive year as the U.S. luxury-sales leader. Even so, it's no time to gloat: Deliveries of its top-selling model for November, the imported GLC SUV, could be at risk if trade talks with the Trump administration sour.
Top executives from Mercedes, BMW AG and Volkswagen AG are headed to the White House on Tuesday to discuss potential tariffs on U.S. imports from Germany with President Donald Trump's trade team.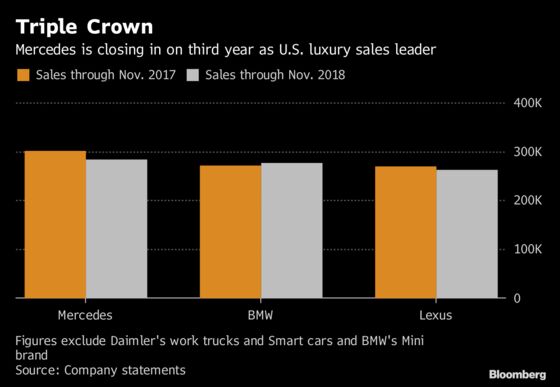 Mercedes-brand sales rose 0.6 percent to 31,022 in November compared with a year ago, almost doubling its lead over BMW year-to-date to 7,286. The GLC sport utility was the star for the month, jumping 16 percent to 6,199.
BMW sold 5,191 of its refreshed X5, which went on sale last month. Total sales rose 1 percent, carried by deliveries of the top-selling X3 crossover, which surged 77 percent.
BMW -- which announced Monday it's facing cost headwinds of over $1 billion next year in part because of Trump's trade war with China -- has been leaning on SUVs made at its Spartanburg, South Carolina, plant to grow in a slowing U.S. luxury market and court favor with the Trump administration.
Toyota Motor Corp.'s Lexus luxury line was down 2.5 percent in November, the ninth straight month of declines. Lexus light trucks, the NX and RX, were up, but that couldn't stanch the bloodletting of a 9.3 percent drop in passenger cars.
BMW's stock jumped 5 percent in Germany Monday, while Daimler shares rose 4 percent after Trump's tweet claiming that China had agreed to "reduce and remove" tariffs on American-made vehicles. Both BMW and Mercedes export cars from their U.S. plants.