Memorial Day Travel to Hit Record Low With Vacations on Hold
(Bloomberg) -- The cheapest gasoline in nearly two decades won't be enough to entice nervous Americans to hit the road for Memorial Day weekend, as Covid-19 fears and economic woes continue weigh on prospective drivers.
The uncertainty around travel is so great that AAA is not releasing a Memorial Day travel forecast for the first time in twenty years, citing concerns that the economic data used to create its projection have been undermined by the pandemic, the company said in a statement. Still, beaches along the East Coast are opening for the holiday, raising the possibility of at least some travel.
"My sense is that with re-openings happening, there is going to be a very lumpy outcome for Memorial Day," said Patrick DeHaan, an analyst at GasBuddy. "My best guess is that a lot of people won't be traveling."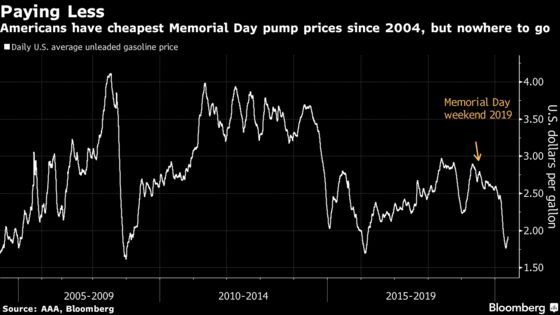 The worst Memorial Day for travel was in 2009, when the U.S. economy was emerging from the depths of the Great Recession, according to AAA. The company anticipates that 2020 will break that record, as social distancing efforts spur Americans to forgo a holiday trip.
"Last year, 43 million Americans traveled for Memorial Day Weekend -- the second-highest travel volume on record since AAA began tracking holiday travel volumes in 2000," Paula Twidale, senior vice president of AAA Travel, said in a statement. "With social distancing guidelines still in practice, this holiday weekend's travel volume is likely to set a record low."
Yet online travel bookings have been rising modestly since mid-April, according to AAA, suggesting travelers' confidence is beginning to improve. When Americans do venture out for a vacation, it will likely be domestic à la "the great American road trip," AAA said.