Medline's $6 Billion Loan Is Largest LBO Funding Deal Since 2018
(Bloomberg) -- The takeover of medical supply company Medline Industries Inc. is being funded by the largest leveraged buyout loan in three years, the latest sign of a hot U.S. market coming out of the pandemic.
The dollar tranche amounts to $6 billion, the most since Refinitiv's $6.5 billion loan in 2018, according to data compiled by Bloomberg. If Medline completes the deal at that size, it would be the fourth-largest broadly syndicated dollar LBO loan since Bloomberg began tracking the data in 2013.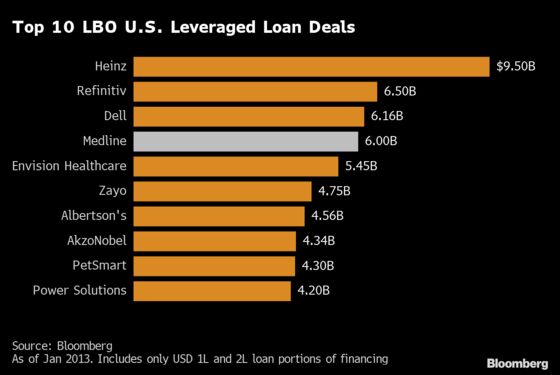 The buyout is led by private equity firms Blackstone Group Inc., Carlyle Group Inc. and Hellman & Friedman LLC. 
The financing includes a leveraged loan denominated in euros (amounting to the equivalent of $1 billion) and as much as $7.8 billion in high-yield bonds expected to launch in the coming weeks
The debt is being offered at a spread of 350 to 375 basis points over the London interbank offered rate

Loan sets a Libor floor of 0.50%
Pricing talked at 99.0 to 99.5
Terms compare favorably with other recent large single B rated M&A loans, such as Pactiv Evergreen's $1.015 billion loan and Cornerstone OnDemand's $2.118 billion loan

At $6 billion, the loan will be the largest currently in the U.S. market
"Given its size and a ratings/spread combination of B2/B+ and L+350-375 bps, which looks favorable to CLOs, we expect Medline's loan to be one of the more-liquid in the market following syndication," Bloomberg Intelligence's Mike Holland wrote in a report on Wednesday
Commitments for the term loans are due Sept. 30