Medline Begins $7.77 Billion Junk Sale to Fund Jumbo Buyout
(Bloomberg) -- Banks began marketing a $7.77 billion junk-bond sale on Monday to help fund the leveraged buyout of medical supply company Medline Industries Inc., the largest since the global financial crisis.
The bonds are split into a $3.77 billion 7.5-year portion secured against the company's assets, and $4 billion of unsecured eight-year notes, according to people familiar with the matter.
The notes make for the biggest dollar-denominated junk-bond deal since Valeant Pharmaceuticals International Inc. sold $8.5 billion in March 2015 to fund the acquisition of Salix Pharmaceuticals Ltd. Inclusive of tranches in other currencies, it ranks as the third largest offering across all leveraged buyouts and acquisition deals.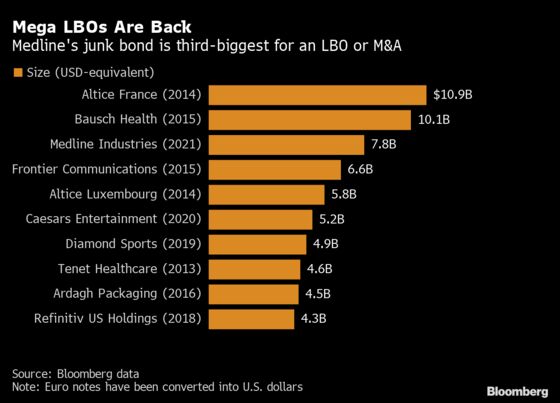 Early pricing discussions are for a yield in the low-4% range for the secured bonds, and 6% area for the unsecured notes, the people said, asking not to be named discussing a private transaction. That's higher than the average yield for similarly-graded notes, of 3.01% and 4.32%, respectively, based on expected ratings by Fitch Ratings of three steps into junk for the secured portion, and six steps for the unsecured. 
"Reviewing market pricing for similarly rated peers, Medline Industries' contemplated two-part bond offering appears wide to comparable issuers, particularly the proposed unsecured bond tranche."

Wrote Mike Holland, an analyst at Bloomberg Intelligence
Banks had provided temporary bridge financing to help fund the buyout, but sold the exposure from their commitments to investors in August. Those money managers will see their investments refinanced by this junk-bond sale, but are also on the hook to continue providing financing in the unlikely event that the latest offering falls through. The deal will market through Wednesday as more asset managers come aboard. 
Medline is also marketing $7 billion of leveraged loans to support the buyout, and moved up the commitment deadline by one day to Wednesday. 
Demand for Medline's offering is expected to be robust in a junk-bond market that has seen heavy volume recently. Last week was the busiest in about a month, according to data compiled by Bloomberg, while at least seven other companies came forward with new debt sales on Monday alone. Meanwhile, issuance of new collateralized loan obligations reached more than $124 billion at the end of last week, and will continue to drive demand for the leveraged loans that so-called CLOs package and resell into bond-like products to investors.
Private equity firms Blackstone Group Inc., Carlyle Group Inc. and Hellman & Friedman LLC are buying a majority of Medline for more than $30 billion from the Chicago-based Mills family. Singapore's GIC Pte will also invest as part of the partnership. The deal is worth as much as $34 billion including debt and would include a $17 billion so-called equity check, Bloomberg previously reported.
Medline's buyout marks a return of large-scale LBOs amid historically low borrowing costs that are helping to fuel activity. Sponsors have also been making up for lost time after the coronavirus pandemic temporarily halted acquisition dealmaking. 
JPMorgan Chase & Co. is leading the secured bond tranche, while Goldman Sachs Group Inc. is leading the unsecured portion.