Medifast Shares Are Volatile After Gotham Releases Short Report
(Bloomberg) -- Medifast Inc., the weight-loss program provider whose shares have tripled this year, was whipsawed Thursday by a short-seller's report claiming the company hasn't disclosed contaminants in its supplements.
The shares fell about 13 percent before rising 3.1 percent at the close of trading in New York. Volume was more than six times the three-month average. The stock had fallen 19 percent over the prior five sessions but is still up 207 percent on the year.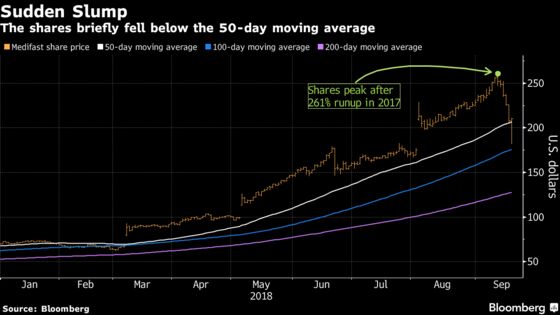 The new short report from Gotham City Research claims that Medifast was aware of elevated levels of lead and other toxic metals in its Optavia product line. Gotham also criticizes the company's supply chain and aggressive pricing. The firm sees as much as 86 percent downside for Medifast shares.
"We take consumer health and safety seriously," Medifast said in an emailed statement. "Our ingredients are regularly analyzed to ensure we meet and exceed all public safety regulations. This is why Medifast has provided safe products for nearly 40 years."
The report says 85 percent of Optavia samples Gotham City had tested last month exceeded the maximum allowable dose level for lead as per California's Proposition 65, while 23 percent exceeded the maximum daily intake levels for lead set by the U.S. Food and Drug Administration.
The FDA wasn't immediately able to provide a comment.
"To claim contamination or mislabeling is common for short sellers to do with food stocks that have appreciated significantly in a short period of time," Linda Weiser, an analyst at D.A. Davidson & Co. who rates Medifast buy, said by email. "Medifast's business fundamentals and growth are very strong."
Criteo SA, Gotham's most recent short idea, has fallen 41 percent since the short report was published last September. MDC Partners Inc. is down 80 percent since Gotham issued a short report on the stock in April 2016.