Medicines Co. Is Said to Attract Suitors Including Novartis
(Bloomberg) -- Medicines Co., the developer of a promising cholesterol drug, has attracted takeover interest from suitors including Novartis AG, people familiar with the matter said.
Novartis has been holding talks about a potential acquisition of Parsippany, New Jersey-based Medicines Co., according to the people. The Swiss drugmaker is conducting due diligence on the company, one of the people said, asking not to be identified because the information is private.
Other potential acquirers have also expressed interest in a purchase of Medicines Co., and there's no certainty an agreement will be reached, the people said. Shares of Medicines Co. have more than tripled in New York trading this year, giving it a market value of about $4.7 billion.
The stock surged as much as 26% New York, the biggest intraday gain since 2010, and was up 19% to $69.96 at 10:51 a.m. Novartis showed little change in Zurich, down less than 1% to 89.15 Swiss francs, valuing the company at about 225 billion francs ($228 billion).
Representatives for Medicines Co. and Novartis declined to comment.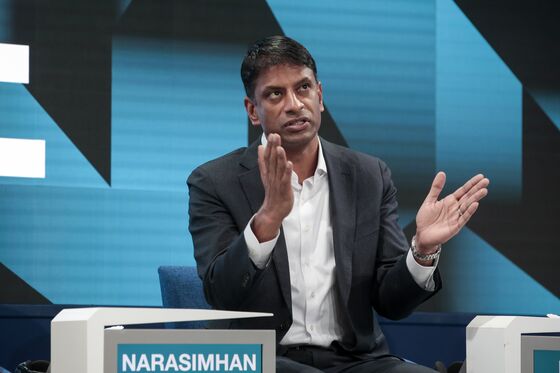 Novartis Chief Executive Officer Vas Narasimhan has relied on deals to sharpen the company's focus on innovative drugs for cancer and rare diseases. The Basel, Switzerland-based company has announced close to $16 billion of acquisitions since he took over as CEO in February 2018, according to data compiled by Bloomberg. He has also spun off the Alcon Inc. eye-care division and ditched a stake in a consumer-health venture.
Medicines Co.'s injectable drug inclisiran cleared a key hurdle this summer as a late-stage study showed it cut bad cholesterol levels in half over 18 months. High levels of the substance are a leading cause of heart attacks.
"Novartis currently has a rapidly growing heart failure drug, so the addition of another cardiovascular medicine would fit," said Bloomberg Intelligence analyst Sam Fazeli.
The company said Monday that the treatment achieved all of its goals in the latest study, showing durable and potent results in lowering patients' cholesterol. Medicines Co. plans to submit the drug to regulators in the U.S. in the fourth quarter and in Europe in the first quarter of 2020.
The data bolstered the treatment's prospects to compete with older therapies from Amgen Inc. and partners Regeneron Pharmaceuticals Inc. and Sanofi. Two years ago, Medicines Co. announced it would lay off most of its workers as it restructured to focus on developing inclisiran.
At Novartis, the medicine would join a stable of therapies that includes Entresto, a treatment for heart failure.
Novartis is betting on cutting-edge drugs, rolling out products like gene therapy Zolgensma aimed at a devastating muscle disease. The company gained Zolgensma by acquiring drugmaker AveXis Inc. for $8.7 billion in 2018. Last year, it also bought Endocyte Inc. for $2.1 billion.